Wondering how Broccoli vs Cauliflower will stack up? This post shares the stats and will help you determine which veggie can advance your health goals best. Tasty recipe suggestions included!
Who here love their cruciferous veggies? I do!
And nothing beats my two go-to choices; broccoli and cauliflower.
I've always enjoyed them equally. However, the world begs to differ. For reasons I'm not sure of, cauliflower suddenly shot to stardom, stealing the spotlight even from kale (which is another cruciferous veggie).
More and more products like cauliflower rice, pizza, and gnocchi started showing up on literally everyone's feed. I'm willing to say that it was downright revolutionary and changed the clean-eating scene.
But now, people are also taking notice of its green counterpart; broccoli! Lately you can find broccoli rice, crusts, and tots taking up some shelf space in your local supermarket.
And so the battle between cauliflower and broccoli continues. Both taste equally delicious in my opinion, but people have been asking me, which one is healthier?
To help you decide which of these veggies you should really lean into during your clean-eating journey, here's a guide that will hopefully answer all your questions.
Is Broccoli Healthier Than Cauliflower?
It depends – both broccoli and cauliflower are highly recommended for a healthy diet. As you've probably noticed, I pretty much use them equally in my recipes, like the Healthy Baked Broccoli Tots and the Spicey Cauliflower Burger (which my kids love btw!).
But broccoli and cauliflower do have their own unique benefits. While comparing them based on nutrition facts, here's the difference between 1 cup (92 grams) of raw broccoli and 1 cup (107 grams) of raw cauliflower.
Nutritional Difference of Broccoli Vs Cauliflower
| | | |
| --- | --- | --- |
| Broccoli | VS | Cauliflower |
| 31 | Calories | 27 |
| 6 grams | Carbs | 5.5 grams |
| 2.5 grams | Fiber | 2 grams |
| 2.5 grams | Protein | 2 grams |
| 90% of the Daily Value (DV) | Vitamin C | 57% of the DV |
| 77% of the DV | Vitamin K | 14% of the DV |
| 9% of the DV | Vitamin B-6 | 12% of the DV |
| 14% of the DV | Folate | 15% of the DV |
| 6% of the DV | Potassium | 7% of the DV |
| 5% of the DV | Copper | 5% of the DV |
| 10% of the DV | Pantothenic acid | 14% of the DV |
| 5% of the DV | Thiamine | 5% of the DV |
| 8% of the DV | Riboflavin | 5% of the DV |
| 8% of the DV | Manganese | 7% of the DV |
| 4% of the DV | Niacin | 3% of the DV |
| 5% of the DV | Phosphorus | 4% of the DV |
| 5% of the DV | Vitamin E | 1% of the DV |
| 5% of the DV | Magnesium | 4% of the DV |
So as you can see, they do have similar nutritional values.
Broccoli slightly edges out its paler cousin since it contains a higher amount of vitamins C and K, and specifically famous for being beneficial for eye health. On the other hand, cauliflower has more pantothenic acid and vitamin B-6.
*At the end of the day, both are healthy choices and it's a matter of which nutrients you want to bump up in your diet.

What Are The Benefits of Broccoli?
Broccoli is loaded with vitamin C. In fact, just a cup already contains 90% of your recommended daily intake! It's an excellent source especially if you want to maintain a healthy immune system.
Broccoli also…
Is Good for eye health: This green veggie contains carotenoids called lutein and zeaxanthin, and studies show they decrease the risk of age-related disorders (such as cataracts and macular degeneration).
Strengthens your bones: Broccoli is a great source of vitamins and nutrients that support bone health and increase bone mineral density, such as vitamin K, calcium, zinc, and vitamin A.
Promotes a healthy gut: Eating broccoli – which is rich in fiber – can support healthy bowels and digestive functions. So if you're experiencing some tummy troubles, have a cup or (two) of this fibrous veggie!
What are The Benefits of Cauliflower?
Cauliflower is a heart-friendly veggie solely because it contains sulforaphane, which reduces inflammatory damage usually connected to heart disease.
Cauliflower is also…
High in fiber: Similar to broccoli, it is also quite high in fiber content. Including fiber in your diet supports healthy bacteria in your gut (and helps reduce inflammation).
A Good source of antioxidants: Cauliflower is rich in antioxidants that help protect your cells from harmful free radicals and inflammation. It can also help boost your immune system and reduce the risk of heart disease.
Supports hormonal balance: Compared to its counterpart, cauliflower contains a plant compound called indole-3-carbinol (I3C) which acts as a plant oestrogen that balances hormones through regulating estrogen levels.
Which Is Better For Weightloss: Broccoli or Cauliflower?
If you're going for a low calorie, low fat, and low carb diet…cauliflower is your best match for weightless! On the other hand, broccoli is richer in various essential vitamins and minerals. Both cauliflower and broccoli fit a low glycemic diet because they are great substitutes for several carb-based foods (like potatoes and rice).
In other words, broccoli vs cauliflower come out relatively even here. Both veggies are perfect for your weight loss journey!
Can I Substitute One For The Other?
Yes – Definitely! Both cauliflower and broccoli have a fibrous texture, which makes them interchangeable in recipes.
If you're looking to add some color to your meals, then add some broccoli! But if you want something that has a more delicate taste (or are feeding someone who's not exactly a fan of green veggies) then go for the cauliflower instead.
Either way, these two veggies are nutritional powerhouses that can be eaten on their own OR in your favorite recipes, like these Loaded Cauliflower Tots. Or Healthy Baked Broccoli Tots. This is broccoli vs cauliflower – I'll let you choose!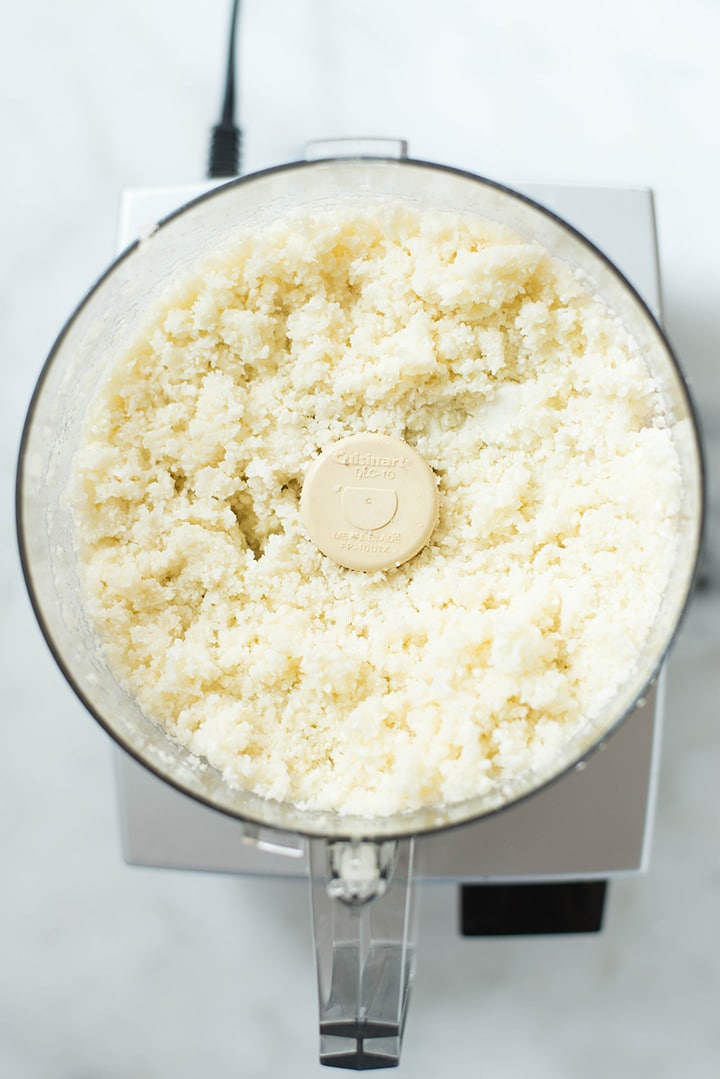 Are Broccoli And Cauliflower Keto-friendly?
Yes, the keto diet requires not exceeding a certain amount of carbs per day, and both veggies are low-carb. Broccoli has around 2 grams of carbs per 1/2 cup (which is why if you're on keto, this green veggie should be a staple.) You can easily add broccoli in stews, soups, and or just simply bake them.
Cauliflower, on the other hand, has a similar nutrition profile to broccoli which also makes it perfect for those on the keto diet. Given that it has a rather light taste, you can easily adapt it to whatever you are making. I was even able to make some Cauliflower Cheese Sauce and used it on my Chicken Alfredo Pizza. I'm telling you, it was delish!
*When you are on keto, I know that you aren't supposed to eat rice…so you might just love this Cauliflower Rice Recipe.
Healthy Recipes
While both cauliflower and broccoli are healthy, we've learned that broccoli is overall richer in nutrients. Nevertheless, both cauliflower and broccoli are full of essential nutrients that you need to maintain a balanced diet. So you don't really need to choose one!
Ready to satisfy those cruciferous cravings of yours? Here are some recipes for y'all to enjoy!
This post contains affiliate links for products I use regularly and highly recommend.