Are you the type of person who wakes up and immediately thinks COFFEE? Me, too! This Healthy Coffee Smoothie recipe is ready in 5 minutes and is healthier than the sugar-filled coffee drinks you are tempted to buy on your way to work.
Let's face it, caffeinated mornings are better than non-caffeinated mornings.
Who's with me?
I thought so! Glad to see you with your hands in the air, friend.
This is how this coffee smoothie recipe came to be one day…cue Lacey's internal thoughts:
Coffee is great for boosting your energy levels in the morning, but plain coffee can be boring sometimes.
We all know that stopping for a sugar-filled coffee drink on your way to work is not a good idea.
Skipping breakfast is also not a good idea.
Plain coffee is not breakfast.
However, a healthy coffee smoothie is a great breakfast option.  It's like a banana coffee smoothie, but even better.
It has coffee but it also has breakfast ingredients! So you get breakfast and coffee in one drink.  Are you with me??
This means less time spent in the kitchen and more time for yourself during busy weekday mornings. Clean eating and saving time are my favorite things as you can tell. And you get both with this coffee smoothie recipe.
The smoothie is ready in 5 minutes and is as healthy as it can be. But more about that in a bit.
For now, let's just enjoy the awesome news. Because breakfast and coffee ready in 5 minutes is awesome news, am I right?
HOW TO MAKE A COFFEE SMOOTHIE
Learning how to make a coffee smoothie is the easiest thing you'll ever learn. Actually, learning how to make smoothies is very easy in general.
Here's what you need:
Milk of choice – in this coffee smoothie, I use unsweetened almond milk
Banana – ½ banana will do the trick, the riper the better for sweetness
Nut Butter – peanut butter or almond butter both work great
Vanilla – vanilla extract goes great with coffee and makes it taste sweeter, too
Coffee!  We use both fresh ground coffee AND brewed, chilled coffee.  Because: coffee!
Ice – Unless you use a frozen banana
Blend everything together until smooth and your perfect morning coffee smoothie is ready to enjoy.
MAKE AHEAD SMOOTHIE BENEFITS
It's not hard to make smoothies in the morning, but the process can be even easier if you want to plan ahead.
How can this be?
Ok, let me tell you about the benefits of prepping this easy coffee smoothie recipe ahead of time.
Saving time. And you know saving time during busy mornings is always something amazing.
You won't be tempted to leave the house without eating breakfast because your breakfast will be ready in 2 minutes.
How to make a coffee smoothie freezer pack:
Add the coffee grounds, banana, vanilla extract, and peanut butter to a sealable freezer-safe bag.
Press the air out of the bag.
Place the bag in the freezer.
When you crave a coffee smoothie in the morning, all you have to do is to add almond milk followed by the frozen ingredients to your blender.
Your breakfast drink will be ready in 2 minutes now.  You can see all about smoothie freezer packs here.
A HEALTHY BREAKFAST FOR YOUR DAY
This coffee banana smoothie sits high on the scale of healthy breakfast smoothies.
What makes this smoothie recipe the best coffee smoothie recipe?
It's vegan
It's gluten-free
It has 0 processed sugars
It has coffee (duh!)
It's super easy and simple
Let's take a closer look at the main ingredients now. We have coffee, almond milk, banana, and peanut butter.
Coffee increases your energy level. Which means drinking coffee = feeling less tired. I bet you knew that already.
But there are some other amazing things you should know about coffee.
Coffee is:
Low in calories – 1 or 2 calories per 1/2 cup
A great source of potassium – 92 mg per 1/2 cup
A good source of magnesium – 8 mg per 1/2 cup
A rich source of antioxidants
A natural headache fighter
And a separate category of coffee benefits – coffee benefits for skin. Because yes, coffee is good for skin health because it is a natural constrictor and diuretic. That means coffee gets rid of the toxins and it helps move the water throughout the skin. This leads to improved skin appearance.
Who would've thought coffee is so amazing, right? Right. But before you get overly excited about coffee and you start drinking all the coffee drinks you can buy, I have to say that coffee is good for you in moderation. That applies to pretty much everything, I know.
Oh, one more thing. Remember: PLAIN coffee is low in calories. Coffee drinks that are high in sugars and fats are not that good for you. Not at all.
Also – people ask me why I use almond milk.  I love unsweetened almond milk because it is:
Low in calories
Nutritious
Great source of calcium
Great source of vitamin E
Great source of vitamin D
Great for those who cannot drink cow's milk
Since we're covering the ingredients in this coffee smoothie, I use peanut butter because, it is:
Absolutely delicious
A great source of energy
A great source of protein (25g protein per 1/2 cup)
Great source of healthy fat
Plus I use bananas because they are
fat-free
high in potassium
A great source of carbs
A great source of natural sugar
high in vitamin C, vitamin B6, and vitamin A
Ok, so are we ok now? Do you believe me when I say this healthy coffee smoothie is very good for you?
Yes?
Ok, great!
ALMOND MILK VS. COW MILK
I get asked often why I use almond milk in my smoothies instead of cow's milk.  Truth is: I prefer the taste.  You can easily substitute cow's milk for almond milk in this coffee smoothie recipe if you want. There are pros and cons for both.
So, instead of telling you which is better for you, I think it's best to analyze the battle of almond milk vs cow milk together.
Almond Milk Nutritional Profile (per 1/2 cup)
Calories – 13
Saturated fat – 0.1g
Protein – 0.4g
Salt – 0.13
Calcium – 124 mg (almond milk doesn't contain this amount of calcium naturally but it is enriched by manufacturers with calcium because almond milk is usually a replacement for dairy milk)
Vitamin D – 0.75mg
Cow's Milk Nutritional Profile (per 1/2 cup)
Calories – 35
Saturated fat – 0.1g
Protein – 3.4g
Salt – 0.1
Calcium – 120 mg
Vitamin D – trace
As you can see, almond milk and cow's milk are pretty similar when it comes to their nutritional profiles. Cow's milk is slightly higher in protein but it also has more calories. Almond milk, on the other hand, contains more vitamin D.
It's basically up to you to decide. However, there are other almond milk benefits I want to mention:
Almond milk has a great taste and it adds something special to our coffee smoothie.
Almond milk is great for people who are lactose intolerant so if you are lactose intolerant this coffee smoothie recipe is perfect for you as it is.
Almond milk makes it perfect for a vegan diet.
COFFEE AND WEIGHT LOSS
Coffee and weight loss seems to be another topic of conversation when it comes to coffee drinks.
So let's take a step back and look at coffee from an objective point of view, shall we?
We shall!
Coffee contains caffeine and caffeine is used in many fat-burning supplements. That means coffee is good for weight loss, right?
Yes and no.
Coffee makes you more energized and it can improve exercise performance. It can also boost your metabolism.
So far so good…so why is there a "no" in my answer? Because the effect of caffeine diminishes over time. Most people develop a tolerance for caffeine and the effects are not the same after a while.
Does that mean coffee does not help? No. If you cycle your coffee drinking, a coffee shake from time to time definitely helps.
And my healthy coffee smoothie is great for many reasons. Are you tempted to drink plain coffee and leave the house without eating breakfast? Yeah, who isn't? Mornings are hectic and busy. And that's why this healthy coffee smoothie is the answer for all those busy mornings. Because it's coffee and breakfast at the same time. Isn't that amazing?
One last thing. This coffee smoothie is not plain coffee. It's tasty, it's full of flavor, it's perfect. Especially if you're not a fan of plain coffee. So instead of buying a Starbucks drink or a coffee drink that is full of sugar and other ingredients that aren't good for you, opt for a coffee banana smoothie.
Don't be shy, try it.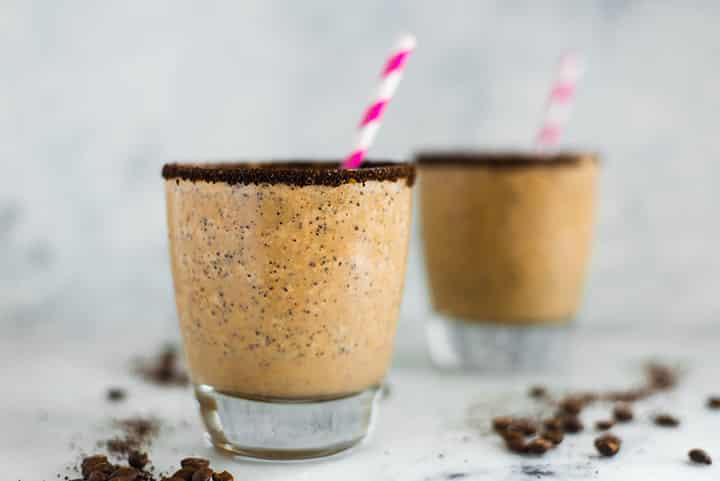 3 MORE HEALTHY SMOOTHIE RECIPES
Are you developing a strong sense that healthy breakfast smoothies are the way to go during busy mornings? Good. I'm glad to hear that. And I'm ready to show you other great healthy smoothie recipes. Because having options is always a good thing.
ALMOND BUTTER, CHOCOLATE, & COFFEE BEAN PROTEIN SHAKE
I'll start with another caffeinated option. A delicious caffeinated option that is called Almond Butter, Chocolate, & Coffee Bean Protein Shake.
Coffee and almond butter are amazing together. But that's not enough. So this protein shake also has chocolate and cinnamon. And yes, it tastes as delicious as it sounds, it's healthy and breakfast-perfect. Get the recipe.
PINK POWDER PROTEIN BEET SMOOTHIE
Coffee drinks are perfect for breakfast. However, there are other drinks I like in the morning. Pretty drinks. Pretty like this Pink Power Protein Beet Smoothie.
This healthy smoothie is colorful, vibrant, and satisfying. And I can guarantee that it will make your mornings better. Just look at it. Get the recipe.
SMOOTHIE FREEZER PACKS
Since I talked to you about the benefits of make-ahead coffee smoothie freezer packs, I have other Smoothie Freezer Packs I think you might like.
14 Smoothie Freezer packs to be precise. You can have 2 weeks worth of healthy breakfast smoothies prepped and waiting for you in the freezer in just the same amount of time required to make a smoothie from scratch. Get the recipes.
Healthy Coffee Smoothie Recipe
This Healthy Coffee Smoothie recipe is ready in 5 minutes and is healthier than the sugar-filled coffee drinks you are tempted to buy on your way to work.
Categories:
Breakfast, Drinks, make-ahead, Smoothie
Keyword:
coffee smoothie, coffee smoothies, healthy coffee smoothie
Ingredients
1/2

cup

ice,

plus more as needed

1

tbsp

ground coffee

1

tbsp

peanut butter

1/2

tsp

vanilla extract

3/4

cup

unsweetened almond milk

(or milk of choice)

1/4

cup

brewed coffee,

chilled

1/2

banana

(the riper, the sweeter)

raw honey,

as needed, for sweetness (and if not vegan)
Instructions
To Make the Healthy Coffee Smoothie Recipe:
Add all the ingredients to a blender and blend until smooth.

Add more ice if too liquid or more almond milk if too thick, as needed.
To Make The Smoothie Freezer Pack:
To make the smoothie freezer pack, add the ground coffee to the bottom of the bag, followed by banana, vanilla extract, and peanut butter to a freezer bag.

Press the air out of the bag and seal tightly, then place in the freezer.


When ready to blend, add the almond milk to a blender, followed by the frozen contents from the freezer pack.
Nutrition Facts
Healthy Coffee Smoothie Recipe
Amount Per Serving (1 smoothie)
Calories 148
Calories from Fat 76
% Daily Value*
Fat 8.4g13%
Sodium 69.8mg3%
Carbohydrates 17g6%
Protein 4.2g8%
* Percent Daily Values are based on a 2000 calorie diet.
This post contains affiliate links for products I use often and highly recommend.