This Healthy Coffee Smoothie recipe is ready in 5 minutes and is so much healthier and tastier than those sugar-filled coffee shop drinks you're buying.  Coffee, meet smoothie!
Let's face it: caffeinated mornings are better than non-caffeinated mornings.
Actually, this is how this coffee smoothie recipe came to be one day.
Let's discuss how this coffee smoothie came to be:
Coffee is great for boosting your energy levels in the morning, but plain coffee can be boring.
We all know that stopping for a sugar-filled coffee drink on your way to work is not a good idea.
Skipping breakfast is also not a good idea.
Plain coffee is not breakfast.
Iced coffee is life.
Enter this banana coffee smoothie as a great breakfast option.  It's like coffee, but even better.
I know: BOLD statement.
BONUS: The smoothie is ready in 5 minutes and is as healthy as it can be.
For now, let's just enjoy that awesome news. Because breakfast and coffee ready in 5 minutes is golden.
THE COFFEE SMOOTHIE INGREDIENTS YOU'LL NEED
Let's discuss what ingredients you'll need to make a coffee smoothie.
Here's what you need:
Milk of choice – in this coffee smoothie, I use unsweetened almond milk, but any unsweetened milk will work
Banana – half a banana will do the trick, the riper the better for sweetness, and keep it frozen for the best texture
Nut Butter – peanut butter, cashew butter or almond butter both work great
Vanilla – vanilla extract goes great with coffee and makes it taste sweeter, too
Coffee!  We use both fresh ground coffee AND brewed, chilled coffee in this recipe.  Because: coffee!
(My Cleanish Coffee blend is pure perfection for this recipe).
Ice – Only needed if you don't use a frozen banana or you want it s little thicker
Then, once you have all the ingredients gathered, add them to a high speed blender, and blend until smooth.  That's it — and your perfect morning coffee smoothie is ready to enjoy.
If the smoothie is too thick, you can add either more coffee or milk to loosen.  If your smoothie is too thin, just add in a few ice cubes, and re-blend.  Using a frozen banana wil help keep your smoothie creamy and thick, so it's always good to have those ready to grab from the freezer.
WHY THIS COFFEE SMOOTHIE IS A HEALTHY BREAKFAST FOR YOUR DAY
Here are a few reasons why this coffee banana smoothie sits high on the scale of healthy breakfast smoothies:
It's vegan
It's gluten-free
It has 0 processed sugars
It has coffee (duh!)
It's super easy and simple
But, that's just from a high level — let's dive deeper into WHY the main ingredients are each so good for you, specifically, the coffee, almond milk, banana, and peanut butter.
Is Coffee Healthy?
Coffee increases your energy level, which means drinking coffee = feeling less tired. But I bet you knew that already.  So let's discuss some other amazing things you should know about coffee.
Coffee is:
Low in calories – 1 or 2 calories per 1/2 cup
A great source of potassium – 92 mg per 1/2 cup
A good source of magnesium – 8 mg per 1/2 cup
A rich source of antioxidants
A natural headache fighter
Remember: PLAIN coffee is low in calories, and good for you in moderation. Coffee drinks that are high in sugars and fats are not good for you. Not at all.
And did you know that coffee benefits your skin  (IN MODERATION)??  That's because coffee is a natural constrictor and diuretic so it gets rid of toxins and helps move water throughout your skin. This leads to improved skin appearance. Woohoo!
WHY I USE UNSWEETENED ALMOND MILK
Also – people ask me why I use almond milk in my recipes.  Mostly, I love the taste and I'm not a huge fan of cow's milk – never have been.  I also love unsweetened almond milk because it is:
Low in calories
Nutritious
Great source of calcium
Great source of vitamin E
Great source of vitamin D
Great for those who cannot drink cow's milk
How Peanut Butter Makes This Smoothie Healthy
I'm a huge fan of adding nut butters into my smoothies.  In fact, 'it's rare for me not to include some sort of nut butter.  In this coffee smoothie recipe, I use peanut butter because, it is:
Absolutely delicious (duh!)
A great source of energy
A great source of protein (25 g protein per 1/2 cup)
Great source of healthy fat
It will also leave you feeling fuller longer, which is an important part of a smoothie for me.
Why Add Bananas To Smoothies?
And the all-powerful banana.  Ever wondered why bananas work so great in smoothies?  That's because they are:
naturally fat-free
high in potassium
A great source of carbs
A great source of natural sugar
high in vitamin C, vitamin B6, and vitamin A
the perfect texture when blended, especially if frozen
Hate Bananas?  Try replacing the banana in this recipe with 1/2 cup uncooked rolled oats, 1/2 avocado, 1/2 cup full fat greek yogurt, or whatever frozen fruit you prefer.
Ok, so are we good? You on the same page with me and all the health benefits of this coffee smoothie?
Can You Put Coffee Grounds into A Smoothie?
Yes, you can add ground coffee into your smoothie and it's totally ok (and even good for you!) to eat coffee grounds.  It's not only a great way to add extra flavor and texture into your smoothie, it'll also provide that added caffeine without needing to brew any coffee.  Plus, you get the full benefit of coffee beans without having it be diluted in the brewing process.  That being said, we ALSO add chilled brewed coffee because we want to maximize the coffee flavor in this coffee smoothie. BONUS: coffee grounds contain antioxidants, which is an added bonus for your smoothie.
Just make sure you're using un-brewed ground coffee for your ground coffee in this smoothie.  If the coffee grounds are already brewed, they will lack flavor and caffeine, which are the two main reasons to be adding the grounds into your coffee to begin with!
NOTE: We are talking about ground coffee here, NOT instant coffee.  While you could use instant coffee, that is not how this recipe is intended. I prefer grounding my own coffee beans for peak freshness and aromatic effect.
Want A Decaf Coffee Smoothie?
Just use decaffeinated ground coffee and decaffeinated brewed coffee, and you'll easily make your coffee smoothie a decaf.  This is a great option if you're trying to avoid caffeine or you want to enjoy this as an evening snack, but still want to sleep.
What Type of Coffee Should I Add To My Smoothie?
Now that we've discussed whether or not coffee grounds are okay to eat, the next question is what type of coffee is best for smoothies?  This question is pretty variable, depending on your tastes and coffee preferences.  In general, the better quality coffee grounds, the better taste you'll have in your smoothie.
Also, if you prefer flavored coffee, opt for flavored coffee grounds in your smoothie, and vise versa.
KEEP IN MIND: If you buy the cheapest beans you can find, chances are you'll be consuming pesticides, herbicides, and chemical fertilizers. YIKES. This motivated me to create: Cleanish Coffee! These organic, fair-trade coffee beans are absolutely delicious.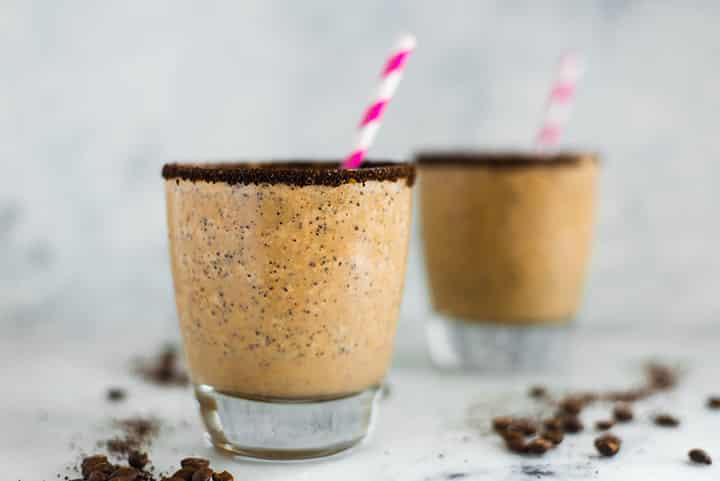 HOW TO MAKE THIS COFFEE-SMOOTHIE AHEAD OF TIME
It's not hard to make smoothies in the morning, but the process can be even easier if you want to plan ahead. Here's how to make this coffee smoothie in a freezer pack:
Add the ground coffee, banana, vanilla extract, and peanut butter to a sealable freezer-safe bag (I love these re-usable storage bags or mason jars).
Press the air out of the bag.
Place the bag in the freezer.
When you crave a coffee smoothie in the morning, all you have to do is to add almond milk followed by the frozen ingredients to your blender.
This also means your breakfast drink will be ready in 2 minutes now.  You can see all about smoothie freezer packs here.
OR if you wanted to blend everything fully ahead, you can pour it into a mason jar, and freeze.  Then, grab it the night before and allow it to thaw in the fridge overnight.  When you wake up, it'll be ready to grab and enjoy.
ANY COFFEE RECOMMENDATIONS?
You already know I'm going to suggest My Better Than Yesterday blend.
I love coffee for many reasons — it's anti-inflammatory, doesn't break a fast, helps athletic performance, improves mood, and gives you energy. It even contains antioxidants. That's why I created Cleanish Coffee. Organic, Fair-Trade, high-quality coffee beans that are absolutely delicious and without the need for tons of added ingredients.
Try my coffee for yourself, and choose to be Better Than Yesterday. 
MORE HEALTHY SMOOTHIE RECIPES
Are you developing a strong sense that healthy breakfast smoothies are the way to go during busy mornings? Good. I'm glad to hear that. Here are some other great healthy smoothie recipes:
Healthy Coffee Smoothie Recipe Video
Healthy Coffee Smoothie Recipe
This Healthy Coffee Smoothie recipe is ready in 5 minutes and is so much healthier and tastier than the sugar-filled coffee shop drinks.  Coffee, meet smoothie!
Categories:
Breakfast, Drinks, make-ahead, Smoothie
Keyword:
coffee smoothie, coffee smoothies, healthy coffee smoothie
Ingredients
1

tbsp

ground coffee

un-brewed, (not instant coffee)

1

tbsp

peanut butter

1/2

tsp

vanilla extract

3/4

cup

unsweetened almond milk

(or milk of choice)

1/4

cup

brewed coffee,

chilled (Try my organic coffee beans)

1/2

frozen banana

(the riper, the sweeter)

raw honey,

as needed, for sweetness (and if not vegan)

ice,

as needed to thicken
Instructions
To Make the Healthy Coffee Smoothie Recipe:
Add all the ingredients to a blender and blend until smooth.

Add more ice if too liquidy or more almond milk if too thick, as needed.
To Make The Smoothie Freezer Pack:
To make the smoothie freezer pack, add the ground coffee to the bottom of the bag, followed by banana, vanilla extract, and peanut butter to a freezer bag.

Press the air out of the bag and seal tightly, then place in the freezer.


When ready to blend, add the almond milk and chilled coffee to a blender, followed by the frozen contents from the freezer pack.
Recipe Notes
Okay, this coffee smoothie is redonk easy to make and so much better (and better for you!) than what you'll get at Starbucks.  Plus think of the savings!!
I get comments all the time on this smoothie recipe and how crazy delicious people find it, even though they weren't expecting it to be as good as it was lol.
If you can't have bananas or you're not a fan, you can replace with a frozen avocado, sweet potato, greek yogurt, oatmeal, or any other frozen fruit of your choice.  
You can also replace the almond milk with any milk of your choosing and the peanut butter with any nut butter or seed butter you prefer - it's really there to add some substance, thickness, ad naturally occurring fat.  Plus: yummy peanut butter 🙂
Nutrition Facts
Healthy Coffee Smoothie Recipe
Amount Per Serving (1 smoothie)
Calories 148
Calories from Fat 76
% Daily Value*
Fat 8.4g13%
Sodium 69.8mg3%
Carbohydrates 17g6%
Protein 4.2g8%
* Percent Daily Values are based on a 2000 calorie diet.
This post contains affiliate links for products I use often and highly recommend.