Looking for perfect main dish accompaniments for your holiday menu? These healthy Thanksgiving side dishes are delicious and colorful. Not only will your Thanksgiving table look incredible, but the flavors will also be amazing, too!
Can you believe it's November? It seems like yesterday it was summer and I was talking to you about summer recipes. And, today, here I am planning my Thanksgiving menu and talking to you about healthy Thanksgiving recipes. It's crazy, isn't it?
However, I can't complain because I'm excited about Thanksgiving. What's not to love about Thanksgiving? You get to spend a day with your loved ones enjoying tons of delicious food.
And Thanksgiving food is so delicious. Am I right?
Unfortunately, not all Thanksgiving dishes are healthy, though. Darn it!
But don't worry, I'll help you create a healthy Thanksgiving menu by sharing with you my favorite healthy side dishes for Thanksgiving.
I've compiled a list with lots of variety to suit every taste. The dishes are all clean-eating, and that's the aim of the game with a healthy lifestyle. And if you have friends coming over who follow a vegetarian diet, they'll have plenty of savory (and nutritious!) options for their plates.
These nutritious Thanksgiving side dishes are totes delicious and they will help you stay healthy during Thanksgiving without compromising on taste.
Like for realz, your taste buds will be happy.  I promise.
Now let's get started because, besides these Thanksgiving recipes, I want to teach you how to eat healthy on Thanksgiving, how to enjoy a healthy Thanksgiving dinner, and share with you my healthy Thanksgiving tips.
Sound good?
CAN THANKSGIVING BE HEALTHY?
YES! Thanksgiving can be healthy. In fact, any holiday can be healthy. You just have to know what makes the dishes not healthy in the first place. Then change those things. Simple enough, right?
No, seriously. It is that simple.
So….why is Thanksgiving unhealthy?
Let's talk about the traditional Thanksgiving sides…
Most traditional Thanksgiving sides contain numerous processed ingredients that are not healthy, like sugar, butter, and all-purpose flour.
Traditional Thanksgiving dishes are also quite high in fat because most of them require butter, sour cream, shortening, or tons of cheese.  Not good for you, either.
Thanksgiving dishes are also very high in sodium. That's not good, either.
The good news is – you can change all these things and transform the traditional Thanksgiving sides into healthy Thanksgiving sides.
TIPS ON HOW TO EAT HEALTHY ON THANKSGIVING
Okay, so now we know why typical Thanksgiving sides are unhealthy…so how do we transform the best Thanksgiving recipes into healthy Thanksgiving dishes?  Here's how:
Change the regular high sodium, processed, and boxed turkey stuffing with a healthy stuffing made from whole wheat bread and low sodium chicken broth and learn how to roast a turkey.
Homemade gravy is the best gravy so learn how to make it from scratch, rather than relying on a package that's super high in sodium and processed ingredients.
If you don't want to skip dessert (because duh!), learn how to make pie crust without butter and then make a pie from scratch. You can opt for the traditional pumpkin pie made healthy or go for a pecan pie. Or why not a sweet potato pie? Use coconut sugar instead of refined white sugar and make your own healthy coconut whipped cream.
Make a healthy and sugar-free cranberry sauce, rather than the high sugar, canned stuff.
As always, portion control is important so make sure you pay attention to what and how much you eat.
If you want to have a healthy Thanksgiving dinner, make sure you also:
Opt for vegetable dishes for Thanksgiving like my healthy green bean casserole, garlic parmesan green beans, or my cauliflower mashed potatoes. These sides for Thanksgiving are easy to make, clean, and healthy.  They'll add a good amount of fiber and nutrients to your meal and are super tasty.
Plan your menu ahead of time and make sure you have all the ingredients for the healthy Thanksgiving recipes in your pantry or your fridge. This way, you won't have to buy anything last minute or opt for canned ingredients because fresh ones are not available anymore.
How to have a healthy Thanksgiving dinner if you're not spending Thanksgiving at home:
Tell the host you want to bring a dish or two and cook something at home. You can prep one of the healthy Thanksgiving recipes included in this post. Or you can make dessert. You'll have healthy options but you'll also help the busy host. I'd call that a win-win.
At the dinner table, start by filling your plate with veggies and add small portions of starchy sides.
Opt for skinless turkey breast since it's the healthiest part of the turkey and low in calories.
You won't be able to say no to every single unhealthy dish. So say yes to one. The one you love the most. It can be stuffing or mashed potatoes. Or a slice of pie. Just make sure you keep the rest of the options as healthy as possible.
MAKING HEALTHY THANKSGIVING RECIPES
Whether you're spending Thanksgiving at home and you can make the entire dinner healthy or you plan to bring side dishes made at home to your Thanksgiving host, it is important to know how to make healthy Thanksgiving recipes. Here are my tried and tested healthy Thanksgiving tips:
Replace sugar with raw honey when making cranberry sauce;
Use coconut sugar for pie and sweet potato casserole;
Use pure maple syrup in your mashed sweet potatoes instead of sugar;
Replace butter and cream with almond milk or full-fat Greek yogurt;
Opt for a low carb side dish. For example, choose cauliflower mashed potatoes instead of regular mashed potatoes. Or learn how to make healthy mashed potatoes.
Reduce the amount of salt;
Remove cream cheese;
Reduce parmesan cheese;
Use Greek yogurt instead of sour cream.
VEGETABLE DISHES FOR THANKSGIVING
Now that you know the basics, it's time to think about vegetable dishes for Thanksgiving.  I've given you an extensive list (yay!), but I'll cover just a few here.
One top-notch dish for Thanksgiving is garlic parmesan green beans. Green beans make a great Thanksgiving side dish and the recipe I have for you is super easy. But you'll love the taste and flavor of the dish.
I also have cauliflower mashed potatoes. This is another easy Thanksgiving side dish and it's also a low-carb alternative to mashed potatoes. Plus it's smooth, delicious, and the recipe can be easily altered to make the cauliflower mash vegan.
And what about amazing Brussels sprouts? This healthy Thanksgiving recipe makes this nutritious veggie turn out golden, crispy, and mouthwatering! Made on a sheet pan and popped in the oven for simple goodness.
Mashed sweet potatoes are high on my top picks for traditional Thanksgiving sides. So I needed a healthy version I can enjoy. The mashed sweet potatoes are still a delicious starchy side even when they are healthy. And they require only 3 ingredients – sweet potatoes, cinnamon, and maple syrup. Talking about easy Thanksgiving sides, right?
Keep reading and you'll see my list of 24 side dishes for the best Thanksgiving dinner ever. You betcha!
HOW TO STORE THANKSGIVING DISHES
Here's the thing, the key to a stress-free and healthy Thanksgiving is having a plan. You can prep some of the healthy Thanksgiving side dishes included in this post ahead of time but first, you also need to learn how to store Thanksgiving side dishes after the meal is done.
To store the delicious sides you need:
Either of them will do. It's good to know that yummy mashed potatoes can be stored in the fridge for around 4 to 5 days. Cranberries are okay in the fridge for up to a week. And the turkey? I've got a few tips.
1. I usually deal with the turkey right after dinner, before I sit down. Sure, I'm kinda full and feel like resting, but it's really best to get this job out of the way.
2. I take the turkey apart and store it according to what I plan to do with it.
3. I pack the meat and bones in separate containers. Some I freeze and some I leave in the fridge for sandwiches and wraps.
4. If I am making turkey stock or soup, I will either throw the meat and bones in the slow cooker overnight or make soup right away while Dustin does the kitchen clean-up.
If you have healthy sides leftovers, you can save some for another day. For example, in the fridge, you can store…
Mashed sweet potatoes for 4 to 5 days;
Cauliflower mashed potatoes for 4 to 5 days;
Cranberry sauce for up to a week;
Garlic parmesan green beans for up to 5 days.
In the freezer, you can store…
The mashed sweet potatoes for up to 6 months;
The cranberry sauce for up to 2 months.

HEALTHY THANKSGIVING RECIPES
1. Garlic Parmesan Green Beans
These Garlic Parmesan Green Beans are an easy vegetarian side that require just 6 ingredients and 15 minutes!
2. Low Carb Cauliflower Mashed Potatoes
Make this recipe for Low Carb Cauliflower Mashed Potatoes instead of regular mashed potatoes for a clean-eating alternative. Easy to alter for paleo and vegan diets.
3. Homemade Cranberry Sauce
This is the best Homemade Cranberry Sauce ever!  Make your own delicious homemade cranberry sauce using just 4 ingredients! Perfect as an easy Thanksgiving side!
4. Healthy Mashed Sweet Potatoes
Just three ingredients needed for this incredibly easy and delicious Healthy Mashed Sweet Potatoes recipe! This recipe is vegan, vegetarian, and refined sugar-free — it's time to learn how to make mashed sweet potatoes!
5. Loaded Cauliflower Tots
My kids adore these Loaded Cauliflower Tots. They are easy to eat, and little pops of goodness. Perfect with turkey and gravy for dipping!
6. Oven Baked Asparagus Fries
Even more tasty than regular fries, Oven Baked Asparagus Fries are super easy to make and a fun side dish at Thanksgiving. Try 'em!
7. Thyme Roasted Carrots
Thyme Roasted Carrots are colorful and look right at home alongside all the other lovely veggies at Thanksgiving! Carrots are full of healthy fiber, potassium, and vitamin C.
8. Healthy Baked Broccoli Tots
Like the cauliflower tots above, my kids request these all year long, not just at Thanksgiving. Healthy Baked Broccoli Tots are filled with nutrition and fun to eat.
9. Southern Style Green Beans
Another delicious side dish that goes so well with turkey and the fixings is Southern Style Green Beans. I love green beans in so many ways!
10. Easy Sweet Potato Hash
Easy Sweet Potato Hash is a great side dish that is quick to prep and doesn't take too long to cook. And did I mention YUMMY?
11. 10 Minute Sugar Snap Peas With Lemon
Sweet and crunchy – that describes my 10 Minute Sugar Snap Peas With Lemon recipe. These go well with any of the other healthy Thanksgiving recipes listed in this post!
12. Sweet Cornbread
I love Sweet Cornbread as a Thanksgiving side. It is moist and has bits of corn in it. Just the way I like it!
13. Easy Parmesan Roasted Cauliflower
The more cauliflower on my plate, the better! Easy Parmesan Roasted Cauliflower has vitamins C and K, along with good-for-you fiber.
14. Honey Balsamic Roasted Brussels Sprouts
I'm a big fan of this nutritious little green veggie. If you are not, you will be after you try Honey Balsamic Roasted Brussels Sprouts!
15. Roasted Broccoli
How about Garlic Parmesan Broccoli? Find that healthy Thanksgiving recipe and 3 more broccoli variations here.
16. Lemon Roasted Asparagus
Looking for a veggie that cooks in 10 minutes? Try Lemon Roasted Asparagus. This side dish is light and goes well with a turkey dinner. And if you love asparagus, it's a fabulous recipe to have in your go-to repertoire.
17. Healthy Sweet Potato Casserole
I love this delicious and crunchy Sweet Potato Casserole. More fiber and goodness, along with amazing taste!
18. Roasted Acorn Squash
I like to sweeten squash. This Roasted Acorn Squash has just the right amount of sweetness, with no refined sugar and tons of goodness. Fiber and vitamins A and C are just a few of the nutrients.
19. Parmesan Mashed Potatoes
These Parmesan Mashed Potatoes are the best-mashed potatoes to pair with turkey. They're made with Yukon Gold potatoes and the parmesan adds a unique flavor!
20. Healthy Green Bean Casserole
Do you like crispy onions? If you're a big fan of fresh green beans like I am, then you'll love this Healthy Green Bean Casserole.
21. Healthy Mac and Cheese
With butternut squash, this Healthy Mac and Cheese is the ideal side at Thanksgiving. It's a must-do healthy Thanksgiving recipe at my house!
22. Healthier Crock Pot Mashed Potatoes
Using your crock pot at Thanksgiving is a real time saver. Let these Healthier Crock Pot Mashed Potatoes cook while you work on something else. The flavor is wonderful, too!
23. Thanksgiving Stuffing
We can't forget this all-important side – it's savory and a holiday must! Mushrooms, celery, and onions make my Thanksgiving Stuffing recipe super flavorful. It's easy to make, too!
24. Homemade Turkey Gravy
Last but not least by any means, Homemade Turkey Gravy is the best – especially when it's clean-eating gravy. I've got that for you right here!
HEALTHY THANKSGIVING DESSERTS
Thanksgiving dinner is not complete without dessert! Here are my top faves for finishing off this awesome holiday meal just right, even though they aren't technically sides 😉 !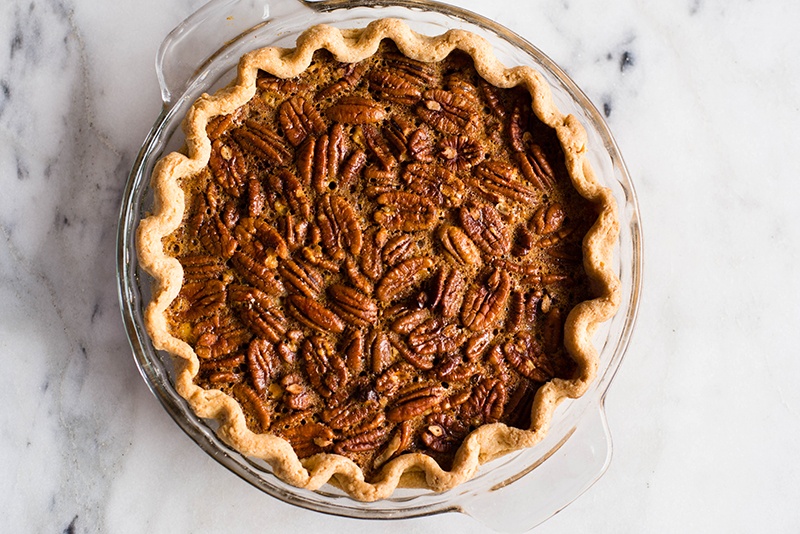 4 Easy + Healthy Thanksgiving Side Dishes
This post contains affiliate links for products I use regularly and highly recommend.