This post was updated on September 10, 2014 to include new images and a recipe video.
Let me first start this recipe post by sharing its resounding success.
And, when I say "success," I mean "Dustin loved it." And, when I say, "Dustin loved it," I mean he has not stopped talking about it.
I have heard him tell at least 6 or 7 people over the past 2 weeks how I recently learned how to cook the best Roast Beef (and French Dips!) he's ever had.  And he's had a lot of Roast Beef (and French Dips!).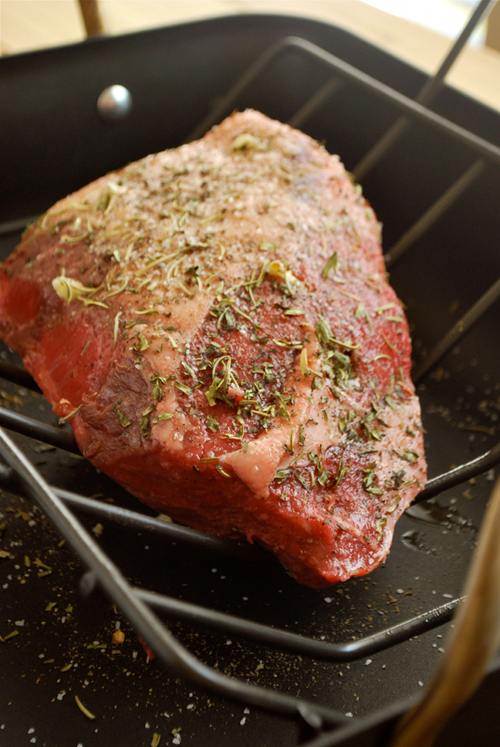 This makes me happy.  Oh so happy. And when I say, "happy," I mean "I love it."
And, when I say, "I love it," I mean, "I love him."
I really recommend this Roast Beef recipe.  It made super moist, perfectly seasoned, tender roast beef. And it was so darn easy, too!  I'd always thought it would be difficult, but now that I know how to cook roast beef, I'm gonna do it all the time.
Especially when it gets me such points with Dustin!
'Cuz I kinda like that guy.
Please, oh please, try this French Dip recipe out after making this roast beef recipe.  You won't regret it!  I also highly recommend these Hoagie Rolls to enjoy your French Dips on.  Oh, my…you're in for such goodness!
Watch me make this recipe and learn how to make roast beef!  Making roast beef at home is super simple and incredibly delicious.  Plus, in the video, I show you how to slice across the grain to get the most tender, juicy slices.  You'll never want to buy roast beef at the store again!
How To Cook Roast Beef
How To Cook Roast Beef
Here's a deliciously moist, tender and flavorful Roast Beef recipe. You'll be so glad you learned how to cook roast beef!
Ingredients
2 1/2

lbs

boneless rump roast

round roast or sirloin tip will work

1-2

tbsp

olive oil

2-3

garlic cloves

sliced

1/2

cup

water

1/2

cup

beef stock

1

tsp

kosher salt

1

tsp

ground black pepper

1

tsp

dried thyme

1

tsp

dried basil

1

tsp

dried tarragon

1

tsp

dried rosemary
Instructions
Heat oven to 375 degrees.

Make several (8-10) small incisions (about 1/4 to 1/2 inch deep) around the meat and then insert a slice of garlic into each. Place the roast, fat side up, on a rack over a

roasting pan

. Pour water and beef broth into the pan (not over the roast) to very lightly cover the bottom of the

roasting pan

.

Rub the roast with olive oil until coated. Sprinkle salt, pepper and herbs all over the roast and spread to evenly coat with your hands.

Place in the oven and roast for 45 minutes (or until temperature in the deepest part of the roast registers 125 degrees). Do not open the oven during these 45 minutes to baste or check on the roast.

After 45 minutes, reduce heat to 250 degrees and cook an additional 10-20 minutes, or until

thermometer

reads 135 degrees. Remove from oven and let rest 10 minutes. While it is resting, it will continue to raise in temperature to 145 degrees.

Remove the slices of garlic, if desired. Slice across the grain in very thin slices.
Nutrition Facts
How To Cook Roast Beef
Amount Per Serving (0.5 lb)
Calories 421
Calories from Fat 248
% Daily Value*
Total Fat 27.6g 42%
Cholesterol 141.7mg 47%
Sodium 459.4mg 19%
Total Carbohydrates 1.3g 0%
Protein 39.7g 79%
* Percent Daily Values are based on a 2000 calorie diet.

Disclaimer: This post contains affiliate links for the kitchen item(s) I use 🙂

Good news!
I've got your dinners covered this week
Get my FREE 5-Day Meal Plan plus...
Organized grocery list to save time and money
Helpful cooking tips and tricks
Free videos on forming better cooking skills
Kitchen conversion and substitution charts