Try this easy roast beef recipe which is one of my most popular recipes plus get my tips for how to cook and slice roast beef for juicy, tender roast beef perfection.
Let me first start this recipe post by sharing its original resounding success.
And, when I say "success," I mean "Dustin loved it."
And, when I say, "Dustin loved it," I mean he didn't stop talking about it for weeks when I first made it.  He shared with his friends how delciious it was, he reminisced with me about how tender and juicy it was…He was so thrilled to have a tasty homemade roast beef recipe that tasted so good.
And it's been like 4 years now, folks, and he still raves about it.  Seriously.
I don't mind – I love it when he thinks my recipes are a hit.
I'd always thought it would be difficult to make roast beef so I had never tried, but now that I know how to cook roast beef, I do it all the time.
It's shockingly simple and ready in less time than I expect every time I make it.  Let me show you how easy it is to make perfect roast beef every time.
How To Cook Roast Beef
Once you learn how to cook roast beef, you'll be able to replace all that deli meat you've been buying at the store and your life will be so much more flavorful and delciious.  Promise.
There are a few main steps to cooking roast beef that will help you make your roast beef amazing and tender, which consist mainly in how to choose your beef, how to season it, what temperature to cook it at, at then how to slice it.
We'll cover how to master all of this in this post.  I got you – we're gonna make some tasty roast beef together.
Best Cuts Of Beef For Roast Beef
Not all beef is created equal for roasting.  Some beef, like steaks, are best pan-roasted or grilled, and other beefs, like ground beef are better cooked on the stove top.  For the best types of roasts for roasting, look for one of the following:
Top Round Roast (AKA Inside Round) – this cut of beef is similar to the top sirloin in fat and flavor and is the most common cut used for roast beef.
Top Sirloin Roast (AKA Top Butt) – this cut is lean and full of flavor with a little but of marbling.
Bottom Round Roast (AKA Rolled Rump Roast) – this cut is a good budget cut and has more marbling than the Top Round.
Eye Of Round Roast – this is a circular cut that is very lean so needs to be very thinly sliced when roasted.
Now, it's always possible to find other cuts of beef that will work for roast beef recipes so don't be discouraged if you don't see any of these exact names.  You can also ask your butcher what they would recommend as they'll have the best understanding of what they have available in their meat market for you, too.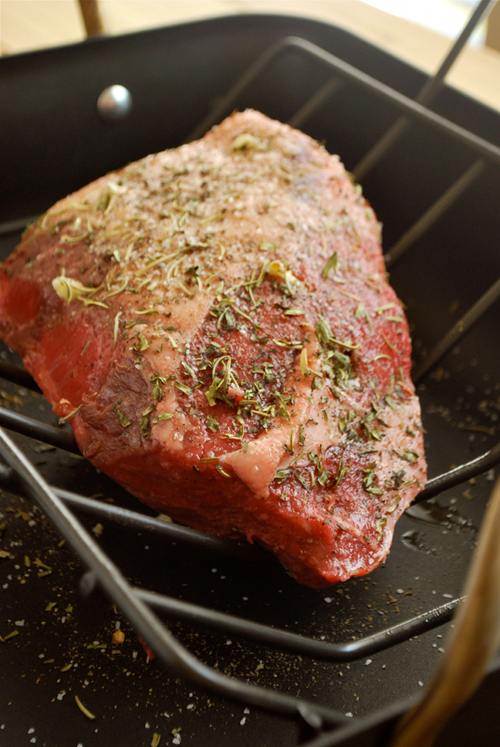 How to Make the Tenderest Roast Beef
Okay, so now that we've chosen a cut of beef that is expected to be tender, juicy, and flavorful and we're ready to make it, what's next?
Well, we need to season it and prep it for the oven.  Since this won't take very long, we need to make sure the oven is ready for the beef so make sure your oven is pre-heated.  Placing a roast into an unheated oven will make things tricky because it will throw off your temperatures and timing so I highly recommend you have the oven fully pre-heated and ready to go.
The good news is that seasoning roast beef does not take make energy at all.  In fact, it's an easy prep of inserting a few garlic slices around the roast, lathering it with some olive oil, and then seasoning with sea salt, black pepper, and a few dried herbs for some additional flavor.  My favorite herbs to use with roast beef are rosemary and thyme, but you can add mostly anything to it that you'd normally cook with and it'll taste great.
What Temperature To Cook Roast Beef?
I have found the best temperature to cook roast beef starts at 375 degrees F and then ends a little lower to finish it off at 250 degrees F.
Changing the temperature midway through has the effect of not overcooking the beef and allowing it to gently come up to the right temperature to remove from the oven.  I usually remove the roast when it reaches 135 degrees F in the deepest part of the roast because, as it rests for 10 minutes on the counter before slicing, the temperature will continue to rise up to 145 degrees, leaving it perfectly pink and juicy – just the way roast beef is meant to be served.
If you'd prefer your roast beef to be a little less pink, you can remove from the oven a little closer to when it reaches an internal temperature of 140 degrees and allowing it to rest and rise past 145 degrees F.  Either way works, it's simply a matter of preference.
For the most tender roast beef, you're going to want the final temperature to be right around 145 degrees F.  Any higher and the roast will start to become more tough and chewy.
I highly recommend using a digital thermometer to insure your internal meat temperature is where you want it.  It removes the guessing out of cooking and helps make the meat the perfect temperature.
 How To Slice Roast Beef
Ahh, slicing your roast beef.  This is a major step as well to insure the most tender roast beef possible.
When you slice your roast beef, you want to make sure you're slicing across the grain (as opposed to with the grain).
If you're not sure how to find the grain, take a look at your roast and look for the long grooves and lines.  Those will all tend to go in parallel across the roast in one direction.  These are the muscle fibers and we want to cut across them (AKA against them), not with them.  If you cut with the grain, you'd be eating an entire long muscle fiber, which would be tough and chewy.  Instead, if you cut against the grain, you're eating just a portion of several of the muscle fibers, which makes for a much more tender bite.
If you need more help on finding the grain, you can watch my video at the end of this post to see exactly how to do it.
My Favorite Tools For Making Roast Beef
If you're planning on making a lot of roast beef in your life, first off: good for you – you deserve it.  Second, I wanted to share some of my favorite kitchen tools that I use all the time for roast beef, among many other recipes.  So, in case you're wondering, here ya go:
It really doesn't require a lot and these tools and equipment are super versatile in my kitchen.
Okay, so now you know how to choose the best beef for roast beef, how to season roast beef, at what temperature to cook roast beef, and how to slice roast beef for the most tender, juicy, and delciious roast beef you've ever imagined.  You're all set to get started making amazing roast beef that will leave you never wanting to buy anything resembling roast beef from a deli again.
Check out this roast beef recipe I have here for you – it's a simple recipe with no frills – just amazing results every time.  It makes super moist, perfectly seasoned, tender roast beef.  And it's so darn easy, too!
It also goes amazingly well in this French Dip recipe which uses these homemade Hoagie Rolls.
Oh, my…you're in for such goodness!
Watch me make this recipe and learn how to make roast beef!  Making roast beef at home is super simple and incredibly delicious.  Plus, in the video, I show you how to slice across the grain to get the most tender, juicy slices.  You'll never want to buy roast beef at the store again!
How To Cook Roast Beef
Here's a deliciously moist, tender and flavorful Roast Beef recipe. You'll be so glad you learned how to cook roast beef!
Keyword:
how to cook roast beef, roast beef
Ingredients
2 1/2

lbs

top round roast*

2

tbsp

olive oil

3

garlic cloves,

sliced

1/2

cup

water

1/2

cup

low sodium beef broth

1

tsp

sea salt

1

tsp

ground black pepper

1

tsp

dried thyme

1

tsp

dried basil

1

tsp

dried tarragon

1

tsp

dried rosemary
Instructions
Heat oven to 375 degrees.

Make 8-10 small incisions (about 1/4 to 1/2 inch deep) around the meat and then insert a slice of the very thinly sliced garlic into each.

Place the roast, fat side up, on a rack over a roasting pan. Pour water and beef broth into the pan (around, not over the roast) to very lightly cover the bottom of the roasting pan.

Rub the roast with olive oil until coated. Sprinkle sea salt, pepper, and dried herbs all over the roast and spread to evenly coat with your hands.

Place in the oven and roast for 45 minutes (or until temperature in the deepest part of the roast registers 125 degrees F). Do not open the oven during these 45 minutes to baste or check on the roast.

After 45 minutes, reduce heat to 250 degrees F and cook an additional 10-20 minutes, or until thermometer reads 135 degrees. Remove from oven and let rest 10 minutes. While it is resting, it will continue to raise in temperature to 145 degrees.

Remove the slices of garlic, if desired, and then slice across the grain using a sharp knife in very thin slice to serve.
Recipe Notes
If unable to find Top Round Roast (AKA Inside Round), other great choices are Top Sirloin Roast (AKA Top Butt), Bottom Round Roast (AKA Rolled Rump Roast), or Eye Of Round Roast
I highly recommend using a digital thermometer to insure your internal meat temperature is where you want it.  It removes the guessing out of cooking and helps make the meat the perfect temperature.
If you don't have a roasting rack, you can cook in a casserole pan or rimmed baking sheet.  
Save reserved juices to make Au Jus for French Dips!
Nutrition Facts
How To Cook Roast Beef
Amount Per Serving (0.5 lb)
Calories 421
Calories from Fat 248
% Daily Value*
Fat 27.6g42%
Cholesterol 141.7mg47%
Sodium 459.4mg19%
Carbohydrates 1.3g0%
Protein 39.7g79%
Vitamin C 0.8mg1%
Calcium 50mg5%
Iron 4mg22%
* Percent Daily Values are based on a 2000 calorie diet.
This post contains affiliate links for the kitchen item(s) I use regularly and highly recommend.