Make this homemade southern  heathy sweet potato pie recipe from scratch using whole, unrefined ingredients this holiday season!  It's so easy to make and your guests won't even know it's healthy! 
I've always made a pumpkin pie with my family for Thanksgiving. Every year. It started off with me baking with my mom and now is me baking with my girls.
2 years ago, we added a pecan pie to the mix, which was really tasty, and fun to try something new.
Last year, I learned about Southern Sweet Potato Pie and how it's a super big deal out here in the South.
Whoops.
So, I set out to learn all about it and to make a healthy sweet potato pie recipe I could share with you. The homemade sweet potato pie turned out perfectly – sweet but not too sweet, wonderfully flavored, and with a delicious clean crust – so here I am sharing the recipe for sweet potato pie with you.
Once you have your southern sweet potato pie recipe baked and cooling (and your home smells amazing!), it's time to think about your topping.  This is a big deal, folks.
While I don't like whipped cream a whole lot, I do love it on my sweet potato pie, especially when it's homemade.  If you've never made whipped cream with coconut milk, it literally takes 5 minutes and just 3 ingredients.  I use my immersion blender (<—-LOVE), but it can be done with a hand mixer or stand mixer as well.  Plus, it's vegan, too.
Now, without further ado, let's see how to make southern sweet potato pie…healthy!
HOW TO MAKE HEALTHY SWEET POTATO PIE
To make a sweet potato pie from scratch, you have to go through 3 easy main steps:
make the crust;
make the filling;
make the topping.
The rest of the steps are just as easy as the main ones. I'll talk more about the whole wheat pie crust later but for now, let's focus on how to make sweet potato pie filling.
all you have to do to make healthy sweet potato pie filling is to mix all the ingredients for the filling together;
pour the filling into the pie crust;
and bake.
Incredibly easy. Am I right? Now let's talk about the healthy substitutes I used to make this healthy sweet potato pie and how to make it vegan if you want.
How to make sweet potato pie healthy:
replace refined sugar with coconut sugar in the pie crust;
use pure maple syrup instead of refined sugar in the filling;
use coconut oil instead of butter.
How many calories in sweet potato pie
Since many of you might be curious about the calories, this healthy sweet potato pie is 329 cal per serving. Not too bad for a holiday dessert, I'd say.

HOW TO MAKE SWEET POTATO PIE VEGAN
Making pie from scratch is a super easy way to control the ingredients and keep the recipe vegan if you'd like. If you're non-dairy, this easy sweet potato pie is perfect for you because it uses unsweetened almond milk instead of regular milk.  To make sweet potato pie without milk, just use any other milk of your preference, such as almond milk, coconut milk, hemp milk, etc.  This southern sweet potato is also almost completely vegan, but does use a couple eggs to thicken and bind the pie together.
To make this sweet potato pie without eggs, you have 2 options.
You can entirely remove the two eggs this sweet potato pie recipe calls for, which will cause the mixture to be a little thicker and not as smooth.
Or you can replace with flax "eggs."  Flax "eggs" are an easy vegan egg substitute. They're a great baking alternative for eating vegan and for those who have allergies to eggs.  To do so, you'll need to make one flax egg, which is made by combining flaxseed meal and water.
To replace the eggs in this healthy sweet potato pie recipe with flax eggs use:
2 tablespoons of ground flaxseed;
6 tablespoons of water.
Stir well, and then allow the mixture to set for about 5-10 minutes.  Then, use as you would regular eggs in this easy sweet potato pie recipe.  This can also be done using ground chia seeds.

HOW TO MAKE WHOLE WHEAT PIE CRUST
It's not a good pie, in my opinion, unless it also has a good crust.  The crust might be my fave part of the pie, in all honesty.   That's why I like to make my own homemade pie crust for this sweet potato pie.  I make a whole wheat pie crust which goes perfectly with the sweet potato pie filling.  I use whole wheat pastry flour which is absolute magic in this sweet potato pie crust.
I also use coconut oil instead of butter to keep it healthier.  If you don't like the taste of coconut, make sure to use refined coconut oil like this one which will have a more neutral scent and flavor.  If you'd prefer to use butter instead of coconut oil, make sure to choose unsalted, organic grass-fed butter to keep it clean.
The steps for making whole wheat pie crust are detailed in the recipe but I can assure you they are very easy to follow.
SWEET POTATO PIE VS. PUMPKIN PIE
The absolute first thing I had to do when I first wanted to make sweet potato pie is to learn what the heck the difference is between a sweet potato pie and a pumpkin pie. Here's the breakdown:
Sweet potato pie is lighter on the spices than pumpkin pie, and actually only requires cinnamon and nutmeg (not the cloves and allspice typically added to pumpkin spice blends).
Southern sweet potato pie is also usually sweetened and flavored with molasses, though I chose to use pure maple syrup instead for mine.  You can use either.
Overall, the two types of pies are quite similar and both are easy to make.  Woot.  After trying both, my best way to describe sweet potato pie is like pumpkin pie without the clove and allspice and all that pumpkin autumn flavor plus it's a little thicker.  Both easy pies, luckily, are perfectly paired with a whole wheat pastry flour crust.  Both are great for as a holiday dessert. And both are yummy when topped off with some homemade whipped cream and chopped pecans.
HOW LONG TO BAKE SWEET POTATO PIE?
If you don't know how long to bake sweet potato pie, take a look at the center of the pie. When the pie is ready, the center is set and no longer jiggle when gently shaken. It usually takes 45-60 mins of baking for the center to set.
Once the pie is ready, remove it from the oven and cool it on a rack.
When ready to enjoy, just top off your sweet potato pie with a dollop of the coconut whipped cream and some chopped pecans.
Simple and delicious perfection.
HOW LONG DOES SWEET POTATO PIE LAST?
You probably want to know how long does sweet potato pie last because, let's face it, if you want to bake a pie for the holidays, you want to be able to make it at least a day in advance. The good news is you can do it. You can even make it a few days or weeks ahead of time and freeze it.
This healthy sweet potato pie lasts for:
3-4 days in the fridge;
up to a month in the freezer.
Since it contains eggs and, sometimes, milk (if you choose to make it with regular milk instead of almond milk like I did), the sweet potato pie doesn't last at room temperature for too long. So, after it's completely cool, store it in the fridge wrapped in plastic wrap or aluminum foil.
HOW TO FREEZE SWEET POTATO PIE
Here's how to freeze sweet potato pie if you want to make it a few days or weeks ahead of time:
cool the sweet potato pie completely at room temperature;
wrap the pie in plastic wrap until tightly sealed;
freeze for up to a month.
To thaw the frozen sweet potato pie:
remove the pie from the freezer;
thaw the pie in the fridge for at least 12 hours. Thawing the sweet potato pie at room temperature can cause the filling to weep, making the pie crust soggy so I definitely recommend thawing it in the fridge.
3 MORE HOLIDAY DESSERT RECIPES
I genuinely believe this is the best sweet potato pie recipe and I especially love how it's a healthy sweet potato pie. And now you know all its secrets and you can make it during this holiday season. Hooray. If you want other healthy dessert recipes that are perfect for the holidays, get ready to try 3 other dessert recipes I love.
HEALTHY PECAN PIE (WITHOUT CORN SYRUP!)
Let's start this list of healthy holiday desserts with another pie. The Healthy Pecan Pie (Without Corn Syrup!) I mentioned in this post.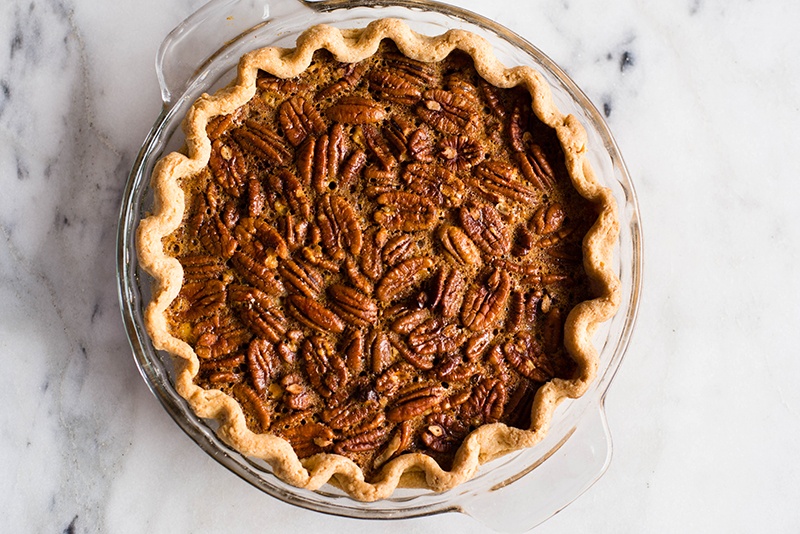 This homemade pecan pie is made with a healthy pie crust and a healthy pecan pie filling. The pecan pie is very easy to make and it's totes delicious, too. Get the recipe.
PALEO 7 LAYER BARS
I'm so excited about these Paleo 7 Layer Bars. They are so yummy and sweet and rich.
The bars are also clean and healthy, of course. Plus paleo and vegan. They are pretty much magical. Get the recipe.
EGGNOG ICE CREAM
This Eggnog Ice Cream is totes amazing. And healthy and perfect for the holiday season.
Made with only 6 ingredients and without sugar, this eggnog ice cream is creamy, thick, and better than any store-bought eggnog ice cream you ever tried. Get the recipe.
Healthy Southern Sweet Potato Pie
Make this homemade Healthy Southern Sweet Potato Pie from scratch using whole, unrefined ingredients this holiday season! Your guests won't even know it's healthy!
Categories:
Clean Eating, Pie, Sweet, Sweet Treat, Thanksgiving
Keyword:
southern sweet potato pie, sweet potato pie, vegan sweet potato pie
Ingredients
For The Whole Wheat Pie Crust:
1/2

cup

coconut oil

1 1/4

cups

whole wheat pastry flour

1/2

tsp

sea salt

1/2

tsp

coconut sugar

6-8

tbsp

ice water plus more if needed
For The Sweet Potato Filling:
2 1/2

cups (approx. 2 large)

mashed sweet potatoes,

mashed and peeled

1/2

cup

pure maple syrup

2

eggs

1

cup

unsweetened almond milk

1/4

cup

coconut oil,

melted

2

tbsp.

whole wheat pastry flour

1

tsp

vanilla extract

1/2

tsp

ground cinnamon

1/4

tsp

ground nutmeg

1/4

tsp

sea salt

2

tbsp

raw pecans,

finely chopped
For The Coconut Whipped Cream (Optional):
1

13.5 oz. can

full fat coconut milk,

refrigerated

1

tbsp

pure maple syrup

1/2

tsp

vanilla extract
Instructions
To Make The Whole Wheat Pie Crust:
To get the coconut oil solid so we can break it into pieces, spread out the coconut oil into an even layer over a sheet of parchment paper and then place into the freezer for about 15-20 minutes to fully harden.

In a food processor, combine the whole wheat pastry flour, sea salt and coconut sugar. (You could also combine in a large bowl and mix with your hands.)

Break the hardened coconut oil into small chunks using your hands.

Add the pieces of hardened coconut oil to the flour mixture in the food processor, pulsing just as much as necessary to break the pieces into even pea-size lumps.

Add ice cold water, 1 tablespoon at a time, pulsing in between, until the dough sticks to itself when pinched. (I always need more water, but I start with just 3-4 tbsp. to be safe.)

Remove flour mixture from the food processor and place onto a clean, dry, flat surface, then gently shape into a disk.

If the dough is too crumbly and refuses to cooperate, you can add more water, tablespoon by tablespoon, as needed.

Wrap the disk in plastic wrap. Place in fridge for 10 minutes to harden some.

Remove the chilled disk from the refrigerator and let sit at room temperature for a couple minutes to make it easier to roll out.

Flour your surface with more of the whole wheat pastry flour.

Using a rolling pin on your well-floured surface, roll out dough to form an approximate 12-inch circle. Be sure to continue to flip the dough over and generously flour each side so as not to have the rolled-out dough stick to the surface. (If it doesn't cooperate, despite heavy flouring, roll it back up into a ball and start again. That's ok.)

Place the rolled-out dough onto a 9-inch pie plate.

Gently press the pie dough down so that it meets the bottom and sides of the pie dish.

Using a knife, carefully trim the dough around the top edge of the pie dish as needed, leaving about a 1/4-inch to 1/2-inch overlap.

Fold the edge of the over and under the edge of itself, pressing together.

You could leave the edge as is, or to style it more, you can either crimp the edges using your thumb and forefinger or press with a fork.
To Make The Sweet Potato Filling:
Preheat oven to 350 degrees.

In a large mixing bowl, add the mashed sweet potatoes, eggs, pure maple syrup, melted coconut oil, pure vanilla extract, whole wheat pastry flour, unsweetened almond milk, ground cinnamon, ground nutmeg, and sea salt. Stir together until evenly mixed.

Carefully pour the filling into the prepared pie crust and smooth out with a spoon.

Place in the oven and bake for 45-65 minutes, or until the center is set. You will know it is set because it doesn't giggle nearly at all when gently shaken.

Once set, remove the pie from the oven and allow to cool on a rack.
To Make The Coconut Whipped Cream (Optional):
Before getting started, make sure you have refrigerated the coconut milk until completely chilled (overnight is best).

Scoop out the thick cream at the top of the can, leaving the looser coconut water for another use.

Add the coconut cream to a large mixing bowl, followed by the maple syrup, and vanilla extract.
Nutrition Facts
Healthy Southern Sweet Potato Pie
Amount Per Serving (1 slice)
Calories 329
Calories from Fat 176
% Daily Value*
Fat 19.6g30%
Cholesterol 40mg13%
Sodium 242mg10%
Carbohydrates 28.9g10%
Protein 5.7g11%
* Percent Daily Values are based on a 2000 calorie diet.
This post contains affiliate links for products I use regularly and highly recommend.