These Healthy Egg Muffin Cups are an easy, healthy, and delicious breakfast you can make once and enjoy throughout the week to make your busy mornings easier. Perfect for back to school meal prep and a good breakfast on the go!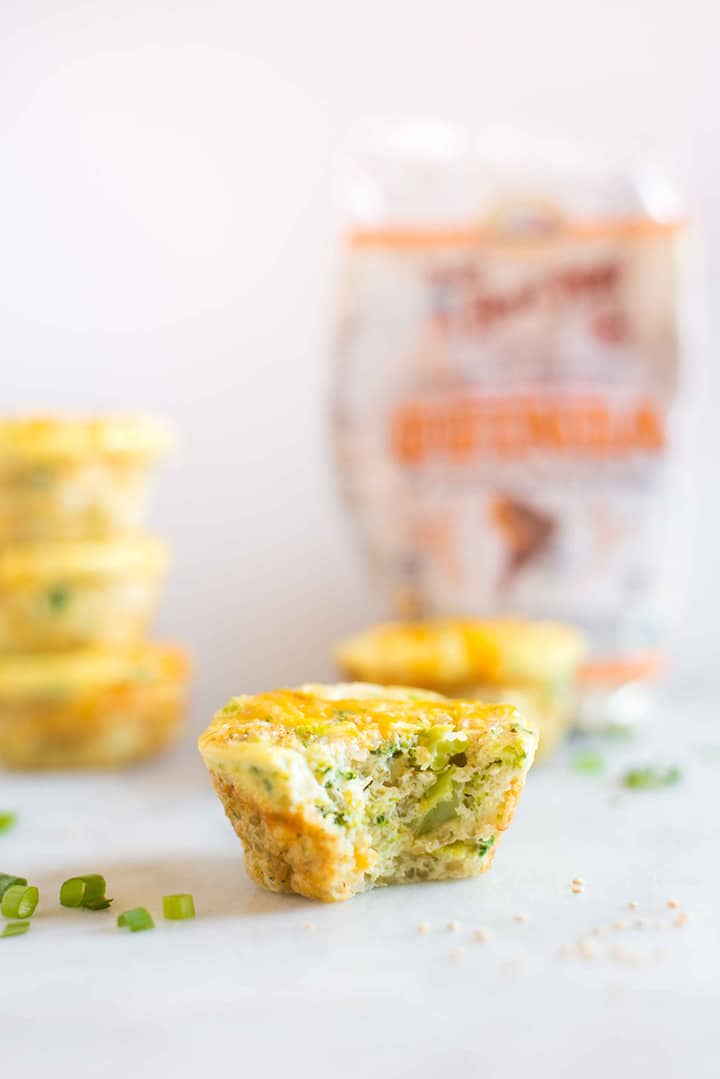 During the week, my free time is very, very limited. Especially since I have 4 kids that need my attention.
I've found the absolute best way to combat feeling overwhelmed (or like a failure – let's be real here) with staying on top of eating well and staying healthy is to plan my meals ahead of time. Meal prep when you have the time so you don't go crazy when you don't have the time. Sounds simple enough to me!
A super easy meal to prep ahead is breakfasts. Not only are they delicious to grab and go, but they're also incredibly easy and last all week in the fridge.  So much better than a bowl of a high sugar cereal that will leave you feeling drained and tired in an hour. Let's be honest – no one needs marshmallows in their breakfasts. Great for meal prep for weight loss.
These healthy egg muffin cups are a great on the go option for busy families because they're super yummy, easy to make ahead, and are packed full of protein, fiber, and yumminess.
HOW TO MAKE HEALTHY EGG MUFFINS
These egg muffin cups are a healthy breakfast to enjoy each day as part of a stress-free morning.  They also make a great snack! Each egg muffin contains just 103 calories, 7 grams of protein, 3 grams of fat, and about 3 grams of fiber, making it a well-balanced source of energy and nutrition. Plus, the combination of quinoa, broccoli, eggs, egg whites, and cheese all provide healthy protein to make egg cups a great nutritional on the go breakfast option.
Compare all that to a high carb, high sugar, highly processed breakfast (I'm looking at you, frosted cereals, pop tarts, pastries, and more!) and you've got a great make-ahead meal here for busy families.
Now that you know how amazing they are, let's see how to make egg muffins:
Start by cooking quinoa;
Then combine the eggs and egg whites in a mixing bowl;
Whisk the eggs then add cheese, quinoa, broccoli, green onions, garlic powder, salt, and pepper and mix;
Transfer the egg mixture to muffin tin;
Top with extra cheddar cheese if you want;
Cook.
How long to cook egg muffins
The healthy egg cups should stay in the oven for approximately 20-25 minutes or until cooked through.
How to make egg muffins without cheese
Looking to remove the cheese from these breakfast egg muffins? No problem! Just replace the cottage cheese and cheddar cheese with a little more broccoli and cooked quinoa. You'll still get lots of healthy protein and will be full for sure. As long as the muffin tin holes get filled up to about 3/4 of the way before baking, you're good to go.  For a little "cheesy" flavor, you can always add in or top the breakfast egg cups with a little nutritional yeast.
WHY ARE EGGS SO GOOD FOR YOU?
For a long period of time, people believed eggs are no healthy. Because eggs contain cholesterol and cholesterol is not healthy. But it's been proven that the cholesterol in eggs is actually good cholesterol, cholesterol that doesn't negatively affect the cholesterol levels in the blood.
Aside from the cholesterol debate, eggs were always considered healthy.
Eggs contain:
protein;
amino acids;
antioxidants;
vitamins including vitamin A and vitamins B2, B5, and B12;
minerals including iron, selenium, and phosphorus;
good fats.
And a large egg is only 77 calories so eggs are great in meal prep for weight loss.
MEAL PREPPING EGG MUFFIN CUPS
This healthy egg muffin recipe makes delicious healthy egg muffins you can make ahead for stress-free mornings. The meal prep egg muffins can be stored in the fridge or in the freezer. I already told you how to make egg muffins so we got that out of the way. And I will explain in a minute how to freeze egg muffins. So let's discuss how long do egg muffins last in the fridge now.
These egg muffin cups will last for up to 5 days in the fridge if you store them in airtight containers. For an easy breakfast, reheat frozen egg muffins in the microwave and enjoy!
HOW TO MEAL PREP FOR WEIGHT LOSS WITH EGG MUFFIN CUPS
Getting into new routines can be stressful and can send you scrambling to pick up the pieces. When learning how to meal prep for weight loss, try to take a moment to breathe. Doing so will make you more prepared to control your life the way you want it. Forgive yourself for whatever foods you've been eating for breakfast or giving to your kids since school has picked back up. Life gets crazy and we deal with what we can when we can.
Now, grab yourself some quinoa, eggs, and broccoli, make this egg cups recipe and take back your mornings and your health with this great grab and go option. Taking less than an hour once a week so everyone can enjoy a healthy breakfast that's ready in seconds during the week sounds like a win-win to me!   Make them when you have time one night or on the weekend when you're doing chores.
CAN YOU FREEZE EGG MUFFINS?
You most certainly can!  Freezing egg muffin cups ahead of time will make your life way easier for up to a month since you can always grab them from the freezer on a busy morning This also is a great option if you aren't able to enjoy all the egg muffins within a couple days of making them so they don't go to waste.
Here's how to freeze egg muffins:
Let the baked egg cups cool completely after baking;
then wrap each egg cup individually and tightly in plastic wrap;
To freeze egg muffins, transfer them to a large freezer bag like this one.
These egg cups will freeze well for up to a month.
HOW TO REHEAT FROZEN EGG MUFFINS
When you want to serve the egg muffins, you have 2 options. To reheat frozen egg muffins you can either:
thaw them overnight in the fridge (as you're prepping your lunch for the next day) then re-heat in the microwave for 30-60 seconds
or you can take them directly from the freezer to the microwave and heat until thawed and warmed.  While the freezer to microwave method is faster, the egg muffin will be slightly mushier when reheated.  Always make sure to remove from the plastic wrap before placing in the microwave, too!
3 HEALTHY MAKE AHEAD BREAKFAST IDEAS
For more healthy, easy make-ahead breakfasts, try one of these additional recipes to mix things up. I love them all and they are great for meal prep for weight loss.
7 EASY MAKE AHEAD SMOOTHIES FOR FALL
Smoothies are very easy to make and, if you pay attention to the ingredients, they can be very healthy and nutritious too. I've got 7 Easy Make Ahead Smoothies For Fall you can try. Fall flavors are not just for Fall, they are amazing year round.
The flavors you can choose from are: Pumpkin Cheesecake Smoothie, Apple Crisp Smoothie, Cranberry Apple Pecan Smoothie, Maple Cinnamon Sweet Potato Smoothie, Cinnamon Butternut Date Smoothie, Oatmeal Raisin Cookie Smoothie, and Banana Bread Smoothie. Get the recipes.
6 BEST OVERNIGHT OATS RECIPES – EASY MAKE-AHEAD RECIPES
If egg muffins or smoothies are not really your thing, you can try these 6 Best Overnight Oats Recipes – Easy Make-Ahead Recipes. They are healthy and yummy.
In case you want to know the flavors, we have: Strawberry Overnight Oats, Carrot Cake Overnight Oats, Make-ahead Mango Overnight Oats, Kiwi Overnight Oats, Blueberry Overnight Oats, Chocolate Peanut and Butter Overnight Oats. Get the recipes.
FROZEN BREAKFAST BURRITOS (HEALTHY MAKE AHEAD BREAKFAST
Another great breakfast option is these Frozen Breakfast Burritos (Healthy Make-Ahead Breakfast!).
They are filling, packed with protein and fiber, and only 350 calories. Get the recipe.
Healthy Egg Muffin Cups (Great for Meal Prep)
These Healthy Egg Muffin Cups are an easy, healthy, and delicious breakfast you can make once and enjoy throughout the week to make your busy mornings easier. Perfect for back to school meal prep and good breakfast on the go!
Categories:
Breakfast, Clean Eating, High-Protein, Meal Prep
Keyword:
healthy egg muffin cups, meal prep for weight loss, meal prep recipes for weight loss
Ingredients
3

large

eggs

6

egg whites

(approx. 1 cup)

1/2

cup

cottage cheese

1/4

cup

cheddar cheese,

shredded (plus more for topping)

1/2

tsp

sea salt

1/4

tsp

black pepper

1/4

tsp

garlic powder

1

cup

quinoa,

uncooked

2

cups

raw broccoli,

chopped

2

green onions,

sliced

olive oil

for greasing muffin tin
Instructions
Preheat oven to 350 degrees F and grease 12 muffin tin with olive oil.

Heat 2 cups water in a sauce pan over high heat and bring to a boil. Add the quinoa and stir in.

Cover, reduce heat to a simmer, and cook for 12-15 minutes or until water is absorbed. Fluff with a fork or spoon, cover, and let sit for another 10 minutes.

In a large mixing bowl, combine the eggs and egg whites, and whisk together.

Add the cottage cheese, shredded cheddar cheese, cooked and cooled quinoa, chopped raw broccoli, sea salt, black pepper, garlic powder, and sliced green onions, and mix together.

Fill each muffin hole with the egg mixture to about 3/4 full. Then, top with a little extra shredded cheddar cheese, if desired.  (I use an ice cream scoop for evenly distributing the mixture into each hole).

Bake for 20-25 minutes, until fully cooked through.

Then, remove from the oven and let cool for about 5 minutes before removing from the muffin tin.
Recipe Video
Recipe Notes
You can make these egg muffin cups ahead of time and refrigerate in an airtight container for up to 5 days. Then, just reheat them in the microwave for an easy breakfast or snack.  You can also freeze in an airtight container for up to 3 months, wrapped in plastic wrap. Then, defrost in a microwave or thaw in the refrigerator.
Nutrition Facts
Healthy Egg Muffin Cups (Great for Meal Prep)
Amount Per Serving (1 egg muffin)
Calories 102
Calories from Fat 30
% Daily Value*
Fat 3.3g5%
Cholesterol 50.5mg17%
Sodium 161.2mg7%
Carbohydrates 10.9g4%
Protein 7.1g14%
* Percent Daily Values are based on a 2000 calorie diet.
This post contains affiliate links for products I use regularly and highly recommend.