One of the biggest struggles that people face during their weight loss journey is portion control. A great solution is the food scale! This post will show you how to use a food scale to lose weight and why it makes a difference.
First off, counting calories is not the same as counting sheep at night. No, my friends, it's way more complicated than that!
When I first started tracking macros, I thought it would be as easy as opening the app, eyeballing the weight of the food, and logging it in.
And I kept telling people how this method not only kept me healthy but also gave me the freedom to eat whatever I wanted.
But then…I stepped on the scale and realized boy was I doing it wrong!
Lesson learned: Shortcuts aren't always the best route.
Then and there, I decided to do it right and got this food scale that I still use up to this day: Etekcity Food Kitchen Scale.
I'm not exaggerating when I say weighing my food has literally changed my life and my body for the better! I firmly believe that weighing your food is helpful to living a healthy yet unrestrictive lifestyle.
After years of practice, I've finally found the perfect methodology on how to use a food scale. And you know, counting calories and measuring portion sizes does have a learning curve….but never fear!
I've got plenty of tips for y'all that will surely help you lose weight, so read on!
Do I Need A Food Scale To Count Calories?
If you want accurate numbers then yes, you do. Although most food items have labels already (which you can use as basis for calculating your calories), I personally don't think it is enough.
Why? It is almost nearly impossible to remember how much you are consuming with complete accuracy!
And because guesswork gets you nowhere fast, it can lead to false progress (where you think you're eating in line with your goals when you really aren't).
Having a regular process of weighing your food and recording this information in a food journal will set you up for success!
You can also check out these 15 Weightloss Hacks That Actually Work which you can easily adapt into your lifestyle.
Do Food Scales Help You Lose Weight?
YES, YES, and HELL YES!! If you're trying to lose weight and you struggle with eating a calorie deficit, a scale will guarantee better accuracy.
Studies show that many processed foods contain way more calories than their labels claim. This is a prime example of why I like food scales.
Just like with counting macros, food scales provide solid and accurate data that we can use to track progress…and make changes accordingly.
Plus, I've found that it helps me set a more focused intention and stick to my goals.
In a sense, it acts as "speed bump" and reminds us, "hey, you're eating half your calorie requirement for breakfast, you may want to slow down?"
If you want to know more about overcoming overeating, read my blog on 8 Simple Ways To Stop Overeating On Weekends.
Why Should I Weigh My Food?
I absolutely advocate for weighing your food because as I mentioned before, this process will help lead to weight loss.
Here's exactly why and how a food scale can help you lose weight:
It teaches your portion control: Once you start weighing your food, you'll finally gain a better understanding on how many calories you are really consuming. You may be surprised but those granola cereals you have in the morning actually contain 400-500 calories per bowl…and a small bowl at that. A lot of time we make assumptions, so adding a scale gives you the accuracy you need to know portion sizes.
It creates a healthy-eating pattern: By sticking to a certain amount of calories per day, your stomach gets accustomed to only eating that amount. Soon, you'll fall into a healthy-eating pattern without much effort at all. Especially when you use Meal Prep Containers, next thing you know you won't need the scale anymore because you'll find that sweet spot (how much you need to eat for max satisfaction and health).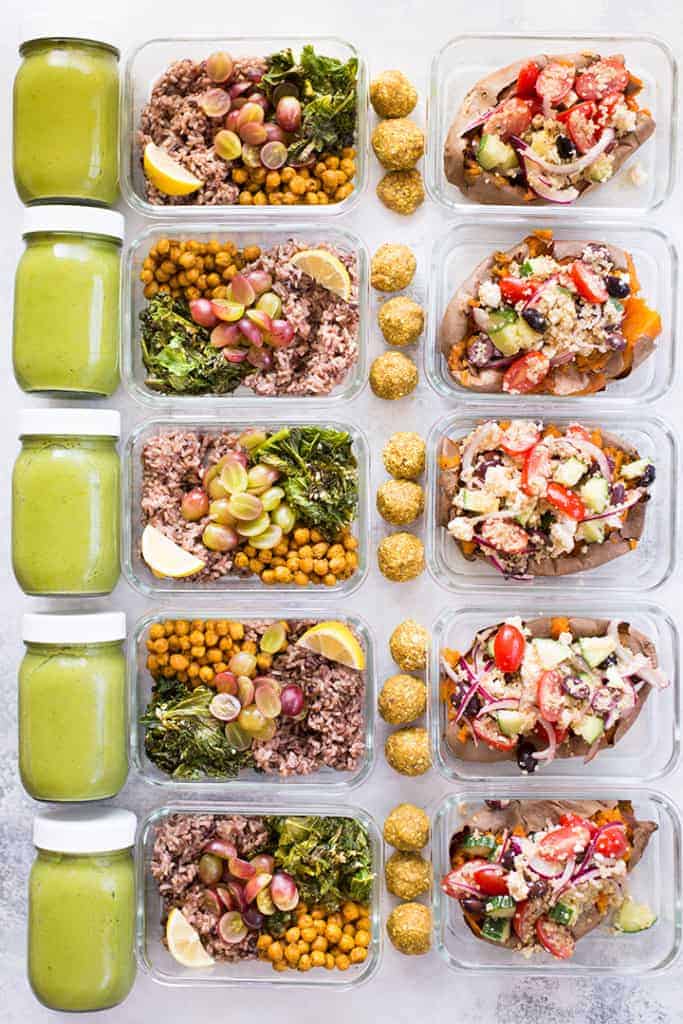 How Do I Choose The Best Food Scale For Weight Loss?
There are various types of food scales and here's what you need to keep in mind when choosing the best scale for you:
Is it within your budget?
Can you easily read the numbers?
Is it big enough to hold the food you plan to weigh?
Is it easy to clean and store?
Is it waterproof?
I don't recommend that you overspend for a food scale, especially when you're starting out. Buy one that will suit your current needs (so that you'll actually use it rather than stuffing it away in the cupboard).
Even if you stop using it for your weight loss journey, getting a food scale is a good investment because you can also use it for baking!
Should I Measure My Food In Grams Or Ounces?
You can measure your food in either grams or ounces. Keep this in mind: 1 ounce = 28 grams and 28 grams = 1 ounce.
Don't freak out! It might seem confusing at first but as long as you remember those figures above, you'll be good. Before you start measuring, take a look at the serving size of the food you want to weigh. If the packaging is labeled in grams, then measure it in grams, and vice versa.
If you are measuring different ingredients where some are given in grams and others in ounces, convert them to the measurement that's most common.
Is It Better To Weigh Food Cooked Or Raw?
Based on my weight loss journey, the best way to get the most accurate data is to weigh and log your food before cooking. (When you weigh your food after it has been cooked, it leaves room for a lot of discrepancies in the numbers).
The state of raw ingredients usually changes when cooked and so does their weight. For example, a boiled potato is heavier than a raw one because it has absorbed liquid. Whereas when you air fry your potatoes…they get lighter.
At the end of the day, it's your choice whether you want to weigh your food or just simply try eyeballing the portions. Remember that what works for others might not work for you.
But if you plan to join the food scale bandwagon, remember that weighing may increase accuracy but there is no such thing as a perfect measurement. If at any point you feel stressed out and overwhelmed with weighing your food, then you can try it out every other day instead.
I assure you, taking this route made me realize that I don't need to give up my unhealthy favorites (yes I still have them, I'm only a human after all)!
And that, for me made it totally worth it!
More Healthy Meal Prep For Weight Loss:
I hope you found this post on how to use a food scale to lose weight helpful! If you want to know more about portion control and meal planning, you might want to check these blogs out!
This post contains affiliate links for products I use regularly and highly recommend.