These are seriously the best lemon bars you'll ever make — they're healthy lemon bars that are refined sugar-free and contain no refined flour! The perfect sweet treat! 
As we all know, the holidays bring about A LOT of sweets — in the form of candy or chocolates or lattes or pies and so on.  As someone who wants to eat healthy, it can become super disruptive to constantly be needing to turn down sweets, despite (obviously) wanting to enjoy a sweet treat.
The struggle is real, peeps.
So, what can we do?
A lot, actually 🙂
The very best way I've found to combat all the highly processed, super sugary foods out there this time of year is to take control and make my own holiday treats, by using whole, real ingredients.
That way, I know I'm still following my clean eating lifestyle and avoiding processed sugars AND I'm getting my sweet holiday treat on, too.  It's like a total win-win.
Plus, you can even bring your better-for-you-treats with you to holiday parties and no one would ever even know they're healthy.  True story.
Like this pecan pie or these healthy lemon bars, for example.
First off, these low-calorie lemon bars are the best lemon bars I've ever had.  The fact that they're healthy lemon bars is just gravy.
HOW TO MAKE LEMON BARS
Healthy dessert recipes seem more complicated than regular ones. But the thing is, they aren't. The steps for this healthy lemon bar recipe are very simple and easy. Here's how to make lemon bars:
Preheat the oven to 350 degrees F.
Grease a pan with coconut oil and set aside.
For the crust – start by combining softened coconut oil, sea salt, and raw honey with a mixer until the mixture is creamy then add spelt flour and almond meal slowly until you form a dough.
Transfer the dough to the prepped ban and press it evenly.
Bake the crust until it's golden brown.
Remove from the oven and allow the crust to cool completely.
Lower the oven temperature to 325 degrees F.
For the topping – start by mixing eggs, raw honey and lemon zest;
Then add in the arrowroot starch and the spelt flour;
Mix until no lumps remain.
Pour the lemon juice and whisk until combined.
Pour the egg-lemon mixture over the cooled crust.
Bake until the topping is set.
Once the lemon bars are done, remove them from the oven and let them cool at room temperature.
Cut into lemon squares.
Refrigerate overnight or for at least 6 hours and enjoy!
In order to get the cleanest edges for your lemon squares, I recommend allowing these healthy lemon bars to cool before cutting.  After the bars are removed from the oven, they continue to cook some.  Additionally, the crust needs time to completely cool to be sturdy enough to hold up the lemon filling.  All of this requires time and patience.  Cool the lemon bars in the pan completely.
Got runny lemon bars?  Chances are you either (1) didn't cook it quite long enough or (2) didn't allow it to cool completely before cutting.
MAKING LEMON BARS HEALTHY
In order to make these lemon bars healthy…
I use spelt flour, almond meal, raw honey, and coconut oil in the crust, as opposed to a combo of (loads of) butter, (loads of) white sugar, and (loads of) refined flour.  Get the point? We want to make healthy lemon desserts.
I also cut out as much of the raw honey as possible – the idea was to give it sweetness, but not make it overly, sickly sweet.
The same goes for the lemon topping – I replaced all the white sugar with (less) raw honey and your typical all-purpose flour with a little spelt flour and arrowroot starch.
Needless to say, these tasty little lemon squares were quickly a hit with anyone who tried them, which is always a great feeling, ya know?
Isn't it the best to love a treat and THEN find out it's healthy?!?
Seriously, though, I hope you enjoy these lemon bars for the holidays.
And I also hope this lets you see that it's possible to make it through the holidays and still stick to your healthy eating goals. I know how easy it can be to let go, eat one bite of this cookie, that one cupcake, those two candy bars, this small latte, and so on…
It happens to the best of us.
Instead, try making these healthy lemon bars and do your mind, body, and taste buds a favor! Or use these simple tricks to make other healthy lemon dessert recipes or other healthy dessert recipes.
To sum up these lemon bars are:
dairy free lemon bars;
low sugar lemon bars;
low-calorie lemon bars. Lemon bars calories –-> 298 per serving.
Yay!
HEALTHY SUBSTITUTES FOR ALL-PURPOSE FLOUR
All-purpose flour is found in pretty much all the store-bought baked goods. And in most dessert recipes including lemon recipes. However, healthy substitutes for all-purpose flour do exist and you can use them to make healthy desserts.
Spelt flour is what I like to use for healthy lemon desserts. Spelt flour is high in protein and has fewer calories than all-purpose flour.
Whole wheat flour is another great option for making healthy desserts. It changes the taste of the baked goods a little but it's definitely a healthier option.
Chickpea flour is great for people who eat gluten-free. This flour is grain-free, nut-free, and also high in protein.
Coconut flour – another great gluten-free option. Coconut flour is also low-carb and high in fiber. Plus, when using coconut flour, you can use less honey or sugar alternatives because coconut has a natural sweetness.
Almond flour is gluten-free and can be used in baking healthy desserts but it's great in raw desserts too.
HONEY VS. REFINED SUGAR
I really don't think I have to tell you raw honey is healthier and good for you compared to sugar. I'm sure you know that. But it might be confusing since they both are carbs and honey actually has more calories than sugar. So how come it is better than sugar, you might wonder. Right?
Well…
Raw honey is healthier than sugar because it contains less glucose and fructose than sugar. Sugar has a 50-50 ratio while honey contains 30% glucose and 40% fructose. The remainder of honey ingredients are minerals, water, and pollen.
These additional components are partially responsible for honey being healthier than sugar because they provide great health benefits.
Honey has a lower glycemic index compared to sugar too so it doesn't raise the blood sugar levels as fast as sugar does.
Despite the fact that honey is slightly higher in calories than sugar, the desserts you're making with honey are not only healthier but they have the same, if not lower, calories than desserts made with sugar. Why? Because honey is sweeter and you will use less.
Honey contains more nutrients than sugar including:

Antioxidants;
Minerals;
Vitamins;
Amino acids;
Enzymes.

Honey is also less processed than sugar and, if you opt for raw honey, you get even more antioxidants and enzymes than you get from pasteurized honey.

HOW TO STORE LEMON BARS
The best way to store lemon bars is in the refrigerator, either in an air-tight storage container or wrapped tightly with plastic wrap.
How long do lemon bars last?
Sadly, lemon bars don't last forever.  If stored properly, these healthy lemon bars will last up to 4 days, but you're likely going to eat all of them by that time anyways!
HOW TO FREEZE LEMON BARS
Can you freeze lemon bars? Yes! Lemon bars can be frozen and thawed for later use.  To freeze lemon bars:
completely cool the baked lemon bars;
slice into the squares;
freeze each square on a baking sheet lined with parchment paper first;
after they are frozen, wrap them in plastic wrap and then put them in large freezer bags.
Frozen this way, they'll last 3-4 months in the freezer.
To defrost, unwrap the lemon bars from their plastic wrap and then allow to thaw in the refrigerator.  Keeping the bars wrapped in plastic wrap when they thaw will make the plastic stick to them.
3 MORE HEALTHY DESSERT RECIPES
Are you ready for more healthy dessert recipes? I was very serious when I said I want you to enjoy healthy desserts during the holidays so, of course, I have more healthy dessert recipes for you.
PALEO 7 LAYER BARS
These Paleo 7 Layer Bars make a rich sweet treat. A healthy one too, of course.
The Paleo 7 Layer Bars are perfect during the holidays, they are pretty, and they have so much deliciousness and sweetness in them that I am tempted to believe they are truly a work of magic. Get the recipe.
HEALTHY PECAN PIE (WITHOUT CORN SYRUP!)
Pies are very popular during the holidays and you don't have to feel guilty for eating them. You can make this Healthy Pecan Pie (Without Corn Syrup!) and enjoy it guilt-free.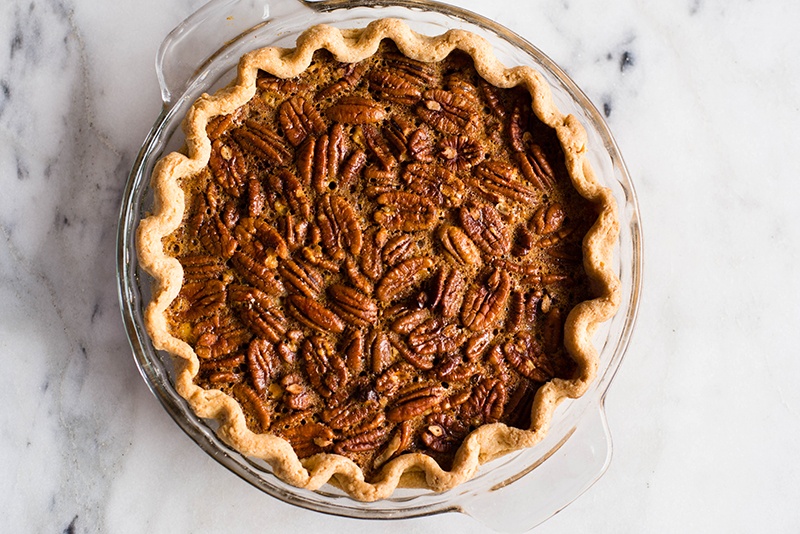 The pie is so easy to make and it has a healthy pie crust that's also incredibly easy. This is not only a low-sugar pecan pie, but it's also a delicious one too and it's perfect for pecan pie fans. Get the recipe.
HEALTHY NO BAKE CHERRY VEGAN CHEESECAKE
Holidays or not, you can never go wrong with a cheesecake. It's creamy, it's rich, and it's delicious. And it can be healthy. Like this Healthy No-Bake Cherry Vegan Cheesecake is.
This cheesecake is perfect for satisfying your sweet tooth cravings while still maintaining your healthy lifestyle. Get the recipe.
Healthy Lemon Bars (with No Refined Sugar!)
These are seriously the best lemon bars you'll ever make — they're healthy lemon bars that are refined sugar-free and contain no refined flour! The perfect sweet treat!
Categories:
Clean Eating, Clean Eating. Gluten-Free, Dessert, No Refined Flour, Paleo, Refined Sugar Free, Sweet
Keyword:
healthy lemon bars, healthy lemon bars recipe, healthy lemon squares
Ingredients
For the Crust:
1/4

cup

raw honey

1/2

cup

coconut oil,

softened

1/8

tsp

sea salt

1

cup

spelt flour

1/2

cup

almond meal
For the Lemon Topping:
4

eggs + 1 egg yolk

1/3

cup

plus 2 tbsp. raw honey

1

tbsp

lemon zest,

approx. 1 large lemon

3

tbsp

arrowroot starch

3

tbsp

spelt flour

3/4

cup

freshly squeezed lemon juice

(approx. 2 1/2 large lemons)
Instructions
Start by preheating your oven to 350 degrees F and greasing a 8x8 or 9x9 square pan with coconut oil, then set aside.

To make the crust, in a large bowl, combine the raw honey, softened coconut oil, and sea salt and blend using a hand mixer, stand mixer or a spoon until creamy.

Slow add in spelt flour and almond meal, and continue to mix until a dough forms.

Press the flour mixture evenly into the prepared baking dish and bake until lightly golden brown, about 10-12 minutes.

Remove from the oven and allow to completely cook, about 20-30 minutes.

Lower the oven temperature 325 degrees F and grab another mixing bowl.

In a separate mixing bowl, add the eggs, raw honey and lemon zest and gently whisk together to create the topping.

Next, slowly add in the arrowroot starch and spelt flour until well mixed so no clumps remain.

Pour the freshly squeezed lemon juice into the egg mixture, and whisk until evenly combined.

Once the crust has completely cooled, carefully pour the lemon-egg mixture over top of the cooled crust and place back in the oven.

Bake until the topping is just set, and the center is just slightly jiggly, about 24-26 minutes.

Remove from the oven and let cool completely at room temperature.

Then, cover and refrigerate for at least 6 hours, preferably over-night.

Once completely cooked, cut into into squares and enjoy!
Nutrition Facts
Healthy Lemon Bars (with No Refined Sugar!)
Amount Per Serving (1 bar)
Calories 298
Calories from Fat 135
% Daily Value*
Fat 15g23%
Cholesterol 87.3mg29%
Sodium 58.2mg2%
Carbohydrates 35.2g12%
Protein 7.6g15%
* Percent Daily Values are based on a 2000 calorie diet.
This post contains affiliate links for products I use regularly and highly recommend.