This Healthy Pecan Pie is so easy and delicious – it's awesome to enjoy a family favorite without sacrificing your healthy eating goals!
Somehow, I made it until my early thirties until I ever tried a pecan pie.  It always seemed so strange to me to fill a pie with…nuts.  So, I went for years without ever even trying one.  Which is kinda crazy, if you think about it.  I mean — how did I not just TRY a kind of pie before?
This is ME we're talking about.
MY LATEST VIDEOS
It's pie.
Then, one day a few years ago, when we were out with the family enjoying a day trip to Fredericksburg (<—- LOVE BTW), we stopped into a super cute and sweet pie shop.  The lady at the front counter boasted about how their Orange Bourbon Pecan Pie was recently featured in Sunset Magazine and it was world renowned.
Okay okay okay, it was time to finally try pecan pie.  How do you say no to that?
So, we ordered a slice of the world famous pecan pie (aaaaaand a few other slices of other pies) and I went for it.
It was then that I realized I had been missing out on a whole amazing kind of pie my entire life.
Pecan pie was amazing! And that orange hint — puh-LEASE.
Note: To all other kinds of fruit pie, I still love you very, very much.
If you follow me on Instagram and Facebook, I recently asked everyone what special holiday recipes you wanted me to #makeithealthy for this holiday season.
Not surprisingly, pecan pie was THE most requested holiday recipe from all the votes.
Pecan Pie is amazing – so why not make it into something we can enjoy on a healthy diet, am I right?!?
Making this pecan pie healthy was not too hard at all, thanks to my trusty clean pie crust which uses whole wheat pastry flour and coconut oil instead of butter.  Nom.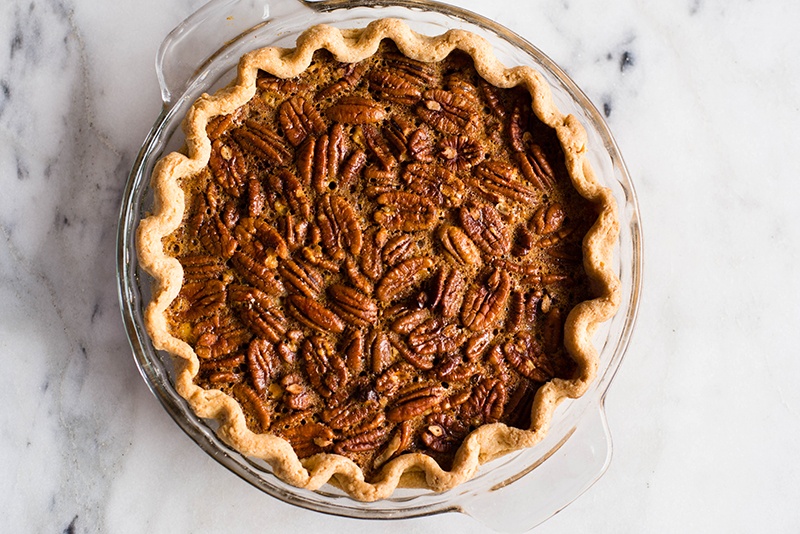 I also used raw honey instead of any refined sugars to sweeten the pie, which worked beautifully.
If you've never made pecan pie, it's so shockingly simple – you just make the easy cinnamon-egg filling, and then pour it over a bunch of raw pecans in the pie crust.  Pop it in the oven and it rises and bakes like a miracle.
That's right: a miracle.
Healthy Pecan Pie
So, for all you pecan pie lovers who want to keep up your healthy lifestyle, this holiday season and throughout the year, I hope you enjoy this #makeithealthy Healthy Pecan Pie as much as we do.
Healthy Pecan Pie
This Healthy Pecan Pie is so easy and delicious - it's awesome to enjoy a family favorite without sacrificing your healthy eating goals!
Categories:
Clean, Dessert, Pie, Refined Sugar Free, Thanksgiving
Ingredients
1/2

cup

raw honey

2

tbsp

coconut oil

melted

3

eggs

1/2

tsp

fresh orange zest

1/8

tsp

sea salt

1

tbsp

unsweetened almond milk

1

tsp

ground ground cinnamon

1

tsp

pure vanilla extract

3

tbsp

whole wheat pastry flour

2

cups

raw pecans

1

bottom pie crust
Instructions
Preheat oven to 400 degrees F.

In a

large bowl

, combine raw honey, coconut oil, eggs, fresh orange zest, sea salt, unsweetened almond milk, ground cinnamon, pure vanilla extract, and whole wheat pastry flour. Stir to combine.

Pour the liquid filling mixture over the pecans, spreading some with a spoon if necessary.

Place into the oven and bake for 10 minutes at 400 degrees, then reduce the temperature to 350 degrees and bake for 20-25 minutes.

The pie will rise in the oven. You'll know it's done when it has small cracks in the top and is no longer giggly.

Remove from oven and allow to cool, preferably overnight.
Nutrition Facts
Healthy Pecan Pie
Amount Per Serving (1 g)
Calories 430
Calories from Fat 296
% Daily Value*
Total Fat 32.9g 51%
Cholesterol 62mg 21%
Sodium 159.3mg 7%
Total Carbohydrates 33.4g 11%
Protein 6g 12%
* Percent Daily Values are based on a 2000 calorie diet.
This post contains affiliate links for products I use regularly and highly recommend.
Good news!
I've got your dinners covered this week
Get my FREE 5-Day Meal Plan plus...
Organized grocery list to save time and money
Helpful cooking tips and tricks
Free videos on forming better cooking skills
Kitchen conversion and substitution charts