Here's a tasty eggnog latte recipe that's better and healthier than the Starbucks eggnog latte recipe. And it's so easy to make a latte at home even without an espresso maker!
I have to admit that I used to love my occasional trips to Starbucks. It was such a treat to have a tasty latte prepared just for me.
However, the frequency of these decreased over the years and now they simply don't exist anymore. Why? Well…
first of all, because I embraced a clean eating lifestyle. Clean eating and Starbucks are not compatible.
second of all, because my once-beloved "treat" turned into an expensive habit routine.
I started thinking… what if I make healthy lattes at home?
Then, I thought about what actually goes into a latte and, suddenly, it didn't seem so difficult to try it out at home without an espresso machine. So, I gave it a shot (ha — pun totally intended!) and… I learned how to make a latte. It was phenomenal!
Thanks to my handy-dandy Stick Blender, this is all a breeze.  Man, I love that thing!
But, it's also totally possible to make using just a mason jar and lid. Seriously, is there anything mason jars can't do? Once I learned how to make a latte, I've made homemade Eggnog Lattes, Pumpkin Spice Lattes and Mocha Lattes (*eh hem* all my favorites from Starbucks, in case you were wondering).
Truthfully, these actually rival the best lattes I've had at Starbucks. Plus, they cost just a fraction of the price. And they are so much healthier and good for you. Um…that's a HUGE difference!
So, here you go! Try out this eggnog latte recipe. It is so simple and so delicious (and so darn cheap). Plus healthy and nutritious. I hope you (and your wallet) like it as much as Dustin and I do.
HOW TO MAKE EGGNOG LATTE
Making homemade eggnog latte is incredibly easy if you follow my eggnog latte recipe. But if you're curious about the steps, here they are:
first, start by making eggnog. I'll highlight the steps for how to make eggnog in a minute.
then make espresso or strongly-brewed coffee;
to make eggnog latte, combine the hot coffee with the homemade eggnog and some nutmeg in a blender;
blend until frothy (if you don't have a blender you can mix the coffee and eggnog in a sealed mason jar by shaking it vigorously);
transfer to a festive mug (it doesn't have to be festive but it's a nice touch);
garnish with nutmeg;
serve hot.
WHAT IS EGGNOG?
Wait… I forgot that not everybody knows what is eggnog. If you were wondering what I was talking about, eggnog is a well-loved beverage in North America, particularly in the US and Canada.
Eggnog is also known as milk punch made with eggs. That might give you an idea about the texture and sweet taste. Also, if you asked the internet "what is eggnog" and it told you it's an alcoholic beverage, that's correct. Traditionally, it is. However, I like to make non-alcoholic eggnog so my kids can enjoy it.
And I like my eggnog coffee non-alcoholic too.
IS EGGNOG GOOD IN COFFEE?
Oh, yeah. It's so GOOD. Eggnog coffee is for Winter what pumpkin spice latte is for Fall. So, I'd say adding eggnog in coffee during this time of the year it's a great way to make your coffee seasonal and festive without compromising your healthy diet.
WHAT COFFEE BEAN IS BEST?
I've said it earlier and I'll say it again… It's easier than you think to make premium lattes at home that can rival those at Starbucks! And since we're making them with drastically fewer calories, they're even better.
The key to a quality homemade latte is using premium coffee beans. I couldn't be more excited to share with you my Better Than Yesterday Blend! It has notes of bright, sparkling fruit and deep, roasted flavors that make for a superb Eggnog Latte.
HOW TO MAKE EGGNOG
To make a healthy eggnog-flavored coffee, you have to learn how to make light eggnog. Eggnog can be purchased from the grocery store but we all know that's never the healthiest option. Making it at home is, so here's how to do it:
combine milk, egg yolks, honey, cinnamon, and nutmeg in a blender and blend until smooth;
transfer the mixture from the blender to a saucepan;
add cloves;
cook the eggnog until it thickens;
add vanilla extract;
use a fine mesh strainer to remove cloves;
For detailed steps and recipe notes, check out my non-alcoholic eggnog recipe.
As I said, I don't follow the traditional eggnog recipe because I like my eggnog healthy and non-alcoholic. Also, I like to cook the eggs not use them raw as the traditional recipe requires for safety reasons.
Now that you know how to make eggnog, you can make an eggnog latte any time you want. But you can also enjoy it on its own. It's YUMMY. Or you can make eggnog ice cream. Also YUMMY.

HOMEMADE VS. STARBUCKS EGGNOG LATTES
If you're not convinced that making eggnog latte at home is the way to go, let's discuss the Starbucks eggnog latte for a minute.
Starbucks eggnog latte ingredients:
eggnog;
milk;
espresso;
nutmeg.
It doesn't sound that scary. I agree. But you have to remember the eggnog used in Starbucks eggnog latte has tons of sugar and artificial flavors. Still, don't believe me? Well, a grande Starbucks eggnog latte is 480 kcal. WOOT! Yes, that's an entire meal for most people. Now that's scary. And if you are a venti type of person, we're talking about 630 kcal.
So yeah, homemade eggnog latte is definitely the way to go. I know not all eggnog latte recipes are the same but you can count on mine. Let's see the eggnog latte ingredients I use:
eggnog;
coffee (use high-quality, organic coffee (I love brewing from my very own beans which you can try HERE)
nutmeg.
I already listed the eggnog ingredients for you and you already know they are clean and nutritious. That means you also know you can use it as an eggnog coffee creamer without feeling guilty.
3 MORE HEALTHY COFFEE RECIPES
After all this eggnog and coffee conversation, I feel like we have to chat a little longer about coffee. Because I like it a lot and I'm pretty sure you like it too. And, while on a regular basis I just enjoy my coffee with a few drops of maple syrup and a little bit of coconut milk, sometimes I want my coffee drinks to be special. So let's take a look at 3 more healthy coffee recipes, shall we?
HEALTHY COFFEE SMOOTHIE RECIPE
I'll start with a Healthy Coffee Smoothie Recipe. This is breakfast and coffee in one drink. Amazing for busy mornings, right?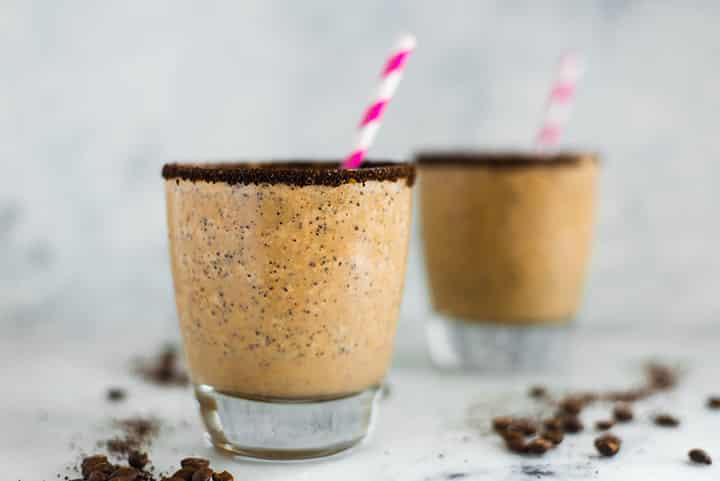 And another great thing about this Coffee Smoothie is that you can make it in 5 minutes. And it's obviously healthy. Get the recipe.
HOMEMADE HEALTHY PUMPKIN SPICE LATTE RECIPE
If you got excited when I mentioned my Pumpkin Spice Latter at the beginning of this post, there you go – my Homemade Healthy Pumpkin Spice Latte Recipe.
Homemade Healthy Pumpkin Spice Latte has all the amazing pumpkin spice flavors but without the sugar and unhealthy ingredients found in Starbucks' pumpkin spice latte. Amazeballs. Get the recipe.
HOMEMADE COFFEE CREAMER
I have to admit that no matter how much I love my flavored lattes, I don't always have time for them. That's why I keep Homemade Coffee Creamer in my fridge.
Don't worry, this is not the regular coffee creamer filled with sugar and chemicals. It's healthy. And easy to make with only 5 ingredients. Get the recipe.
Homemade Eggnog Latte Recipe
Here's a tasty eggnog latte recipe that's better and healthier than the Starbucks eggnog latte recipe. And it's so easy to make a latte at home even without an espresso maker!
Categories:
Clean Eating, coffee, Dairy-Free, hot drinks, latte, winter
Keyword:
eggnog latte, eggnog latte recipes, starbucks eggnog latte
Ingredients
For the Eggnog:
4

cups

unsweetened almond milk

6

egg yolks

2/3

cup

raw honey

1

tsp

ground nutmeg,

plus more for topping

1 1/2

tsp

ground cinnamon,

plus more for topping

1

tbsp

whole cloves

1

tsp

pure vanilla extract
Instructions
In a kitchen blender, add egg yolks, unsweetened almond milk, raw honey, ground nutmeg, and ground cinnamon, and then blend for a minute or so until smooth.

Pour the mixture into a sauce pan or deep pot, add the whole cloves, and heat over medium heat.

Cook the eggnog for about 10-15 minutes until it starts to thicken and slowly cook the eggs. It will be frothy at first. We want the mixture to get hot, but not simmer or boil. If it gets close to boiling, you can whisk vigorously and temporarily remove from the heat.

Once the eggnog has thickened, turn off the heat, and stir in the vanilla extract.

Strain the mixture using a fine mesh strainer to remove the cloves, then pour into an airtight container and place in the fridge to chill for 6-8 hours, or overnight.

To make the eggnog latte, combine hot brewed strong coffee, the homemade eggnog, and some nutmeg in a blender and blend until frothy. You can also use a sealed mason jar and shake vigorously with your hands or an immersion blender in the pot.

Transfer to your favorite mug and serve hot, garnished with nutmeg.
Nutrition Facts
Homemade Eggnog Latte Recipe
Amount Per Serving (1 latte)
Calories 227
Calories from Fat 63
% Daily Value*
Fat 7g11%
Cholesterol 172mg57%
Sodium 221mg9%
Potassium 34mg1%
Carbohydrates 35g12%
Protein 3g6%
Vitamin A 390IU8%
Vitamin C 2.9mg4%
Calcium 248mg25%
Iron 0.4mg2%
* Percent Daily Values are based on a 2000 calorie diet.
This post contains affiliate links for products I highly recommend and use often.