Tired of paying too much in cash and calories for coffee shop lattes? Learn how to make a vanilla-flavored latte at home that is refined sugar-free, healthy, and delicious in less than 10 minutes.
Friends, today I want to have a conversation about coffee with you. Well, another one considering I already talked to you about coffee when I shared my how to make homemade lattes post or when I showed you how to make healthy coffee creamer.
But, if you are a coffee lover, I know you don't mind another coffee conversation. And another latte recipe. This time a vanilla latte recipe that makes a healthy and yummy vanilla latte.
Since you're here, I'm going to assume you'll take a latte over plain coffee any day. I completely understand. Lattes, especially flavored ones, often taste better than black coffee (which I actually really love if the bean is good).
They are also better for relaxing moments. Most people, including me, associate plain coffee with busy mornings when everything is rushed and not enjoyed properly.
A latte, on the other hand, is the type of coffee you drink when you meet your friends or family for conversation and a good time. Am I right?
Either way, a vanilla latte tastes good. It's such a classic.
If you're wondering what is a vanilla latte, well, it's basically a latte with vanilla flavors. You can probably get it at any coffee shop, however, I would love for you to learn how to make a vanilla latte at home.
Why?
Because…
a homemade latte is healthier;
a homemade latte is cheaper;
you can adjust the flavors to fit your taste.
Sound good so far?
Good!
HOW TO MAKE A HEALTHY VANILLA LATTE AT HOME
Let's get straight to the point and talk about how to make vanilla lattes because I want to show you how easy it actually is.
the first thing you need to do is to prep the vanilla latte ingredients;
the second thing – make espresso or strongly-brewed coffee;
the third step – combine the coffee with vanilla and the rest of the vanilla latte ingredients in a saucepan over medium heat for approximately 5 minutes;
transfer the liquid to a blender and blend until foamy;
the last step – pour the vanilla latte into mugs and enjoy!
What do you think? Learning how to make a vanilla latte is quite simple, right?
WHAT'S IN A VANILLA LATTE?
Ok, ok, it's easy to make a vanilla latte but… what's in a vanilla latte? You might wonder…
Happy to answer this question you might have. Let's start with the what's in a vanilla latte you can buy at a coffee shop, shall we? A regular vanilla latte contains:
milk;
espresso;
vanilla syrup <— refined sugar (probably high fructose corn syrup) and artificial vanilla flavors. boo.
The milk and espresso are totally fine. The vanilla syrup, however… that's not very good for you. I'll explain why later but for now, let's take a look at the vanilla latte ingredients required by my vanilla latte recipe.
To make this French vanilla latte, I use:
espresso or strongly-brewed coffee; ← use good-quality, organic coffee (which I love brewing from my very own Better Than Yesterday blend which you can try HERE!)
unsweetened almond milk
full-fat coconut milk
pure maple syrup
pure vanilla extract
WHAT COFFEE BEAN IS THE BEST?
Now you know just how easy it is to whip up your own vanilla latte! You can definitely enjoy coffee shop quality lattes at home without the price tag and refined sugars. If you're like me, and you consider yourself a coffee connoisseur (pushes up glasses), you'll know that quality lattes start with quality beans.
To get that premium latte experience, I'm proud to recommend my very own Better Than Yesterday blend.
Its balance of bright, sparkling fruit and deep, roasted flavors perfectly blend in with the pure vanilla extract. You'll be happy to know it's also fair-trade and organic.

MAKING A SKINNY VANILLA LATTE WITHOUT REFINED SUGAR
As you can see from the list of vanilla latte ingredients, there's no white sugar in my skinny vanilla latte.
Would it be easier if I use sugar-free vanilla syrup?
It would be just a little easier. But not healthier. Sugar-free does not mean healthy. Actually, more often than not, sugar-free means bad ingredients and artificial flavors.
Pure maple syrup is definitely better than sugar-free vanilla syrup. Also way better than refined sugar. Here's way more info on sugar, if you're interested!
ALMOND MILK VS COW MILK
As for why I use almond milk, it's just a preference. I like the taste of almond milk better in lattes. However, you can use cow milk if you want. If you're not sure which milk to use, here's a quick look at almond milk vs cow milk.
One cup of cow milk has…
12 g of carbs;
8 g of fat;
8 g of protein;
150 calories.
One cup of almond milk has…
1 g of carbs;
3 g of fat;
1 gram of protein;
~ 30 calories.
Almond milk is also a great cow milk substitute for people who are vegan or lactose-intolerant.
Aside from almond milk, I also use coconut milk. Coconut milk adds a great flavor to the vanilla latte and it's also pretty healthy. Take a look at the coconut milk vs cow milk now.
One cup of coconut milk has…
2 g of carbs;
5 g of fat;
0 g protein;
~50 calories.

WHY I DON'T USE VANILLA SYRUP
I already touched on this before when I mentioned that, even when it is sugar-free, vanilla syrup is not healthy. It really isn't. That's why I don't use it.
Vanilla syrup, and any other coffee syrup, is high in sugar or unhealthy sugar alternatives and artificial colors and flavors. That's pretty much what you get when you add vanilla syrup to your latte. No nutritional benefits whatsoever. Just bad ingredients.
You can learn how to make vanilla syrup at home or you can do what I do in this vanilla latte recipe – use pure vanilla extract. It's easy and you'll get what you want – a totes amazing vanilla latte.
CAN I MAKE ICED VANILLA LATTES AT HOME?
To turn this vanilla latte recipe into an iced vanilla latte recipe, all you have to do is serve the drink on ice.
Basically, all you have to do is…
add ice to a tall glass;
pour the vanilla latte over;
enjoy your iced vanilla latte.

MORE HEALTHY COFFEE DRINKS
If you love my vanilla latte recipe and you want to try other healthy coffee drinks, good news – I have more healthy coffee drinks for you! 3 more lattes, healthy coffee creamers for healthy coffee drinks, and a coffee smoothie recipe.
HOW TO MAKE HOMEMADE LATTES + 4 LATTE RECIPES
Let's start with more lattes. You can learn How to Make Homemade Lattes and try 4 Latte Recipes.
Aside from the Vanilla Latte, you will learn how to make Eggnog Latte, Mocha Latte, and Chai Latte. Get the recipes.
HOW TO MAKE COFFEE CREAMER + 5 EASY FLAVORS
If you don't always have time for making a homemade latte from scratch but you still want flavored coffee, learn How to Make Coffee Creamer. It' healthy, you can store it in the fridge, and you can add it to your coffee guilt-free.
The 5 Easy Flavors for the healthy homemade coffee creamer are Cinnamon, Chocolate, Hazelnut, Peppermint Mocha, and French Vanilla. Get the recipes.
HEALTHY COFFEE SMOOTHIE RECIPE
Last healthy coffee drink for today – Healthy Coffee Smoothie Recipe. Perfect for busy mornings when you don't have a lot of time to eat breakfast and drink your coffee.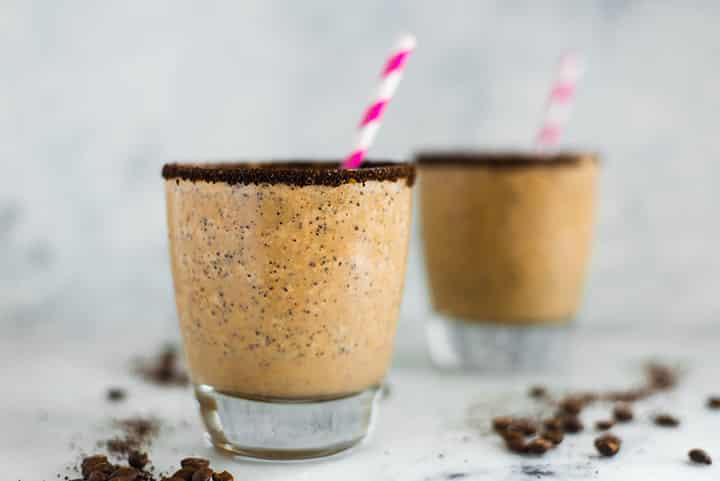 Ready in 5 minutes, the Healthy Coffee Smoothie is breakfast + coffee combined. It's also yummy and very easy to make. Get the recipe.
Vanilla Latte
Make a vanilla flavored latte that is refined sugar-free, healthy, and delicious in less than 10 minutes.
Categories:
Clean Eating, hot drinks
Ingredients
2

cups

strongly-brewed coffee or espresso

(Try the best coffee beans here)

3/4

cups

unsweetened almond milk

3/4

cups

full-fat coconut milk

1/3

cups

pure maple syrup

1 1/2

tsp

pure vanilla extract
Instructions
Combine all of the ingredients in a saucepan over medium-high heat. Simmer for 5 minutes, whisking occasionally, until heated through and slightly frothy on top.

Carefully transfer the liquid to a blender and cover the top with a towel. Blend on high for 30 seconds until foamy. Alternatively, use an immersion blender in the pot. 

Divide among four mugs and serve.
Nutrition Facts
Vanilla Latte
Amount Per Serving (1.5 cups)
Calories 188
Calories from Fat 99
% Daily Value*
Fat 11g17%
Sodium 72mg3%
Potassium 195mg6%
Carbohydrates 21g7%
Protein 1g2%
Vitamin C 1.2mg1%
Calcium 93mg9%
Iron 0.7mg4%
* Percent Daily Values are based on a 2000 calorie diet.
My Vanilla Latte Recipe (Ready in Less Than 10 Minutes!)
This post contains affiliate links for products I use often and highly recommend.