Heading out for a chai latte? Don't! Make it at home with this easy (and cheap!) chai latte recipe. You'll be making a healthy chai latte that is filled with amazing flavors and is only 119 calories. Plus it's clean and made with ingredients that are actually good for you. Awesome!
On a scale from 1 to 10, I'd say I'm a 15 for how much I love homemade lattes.
Can't help it. I HEART coffee.
I drink it moderately, but I enjoy every sip. Especially when it's a flavored latte. Healthy lattes? Total love from me.
I've made a vanilla latte before. Then I made a mocha latte. A while ago I made this Eggnog Latte. Yeah, see? I really, really HEART my lattes.
So… I was wondering… what else should I do? What's next on my homemade lattes list?
Homemade chai latte!
Chai tea is so amazingly flavorful, with spicy and sweet contrasts. Plus we can do a little happy dance because chai is good for you. It has amazing anti-inflammatory properties, it improves digestion, it alleviates nausea, and it's great for your immune system. WOOT!
And when you combine all those benefits with coffee… it's a double win!
I hope you're just as excited as I am. Let's dive straight in the world of chai latte now, shall we?
HOW TO MAKE A CHAI TEA LATTE
First of all, let's talk about how to make chai tea latte because that's the most important part. Then we will discuss what is a chai latte and what are the chai latte ingredients.
My version of chai latte is healthy, but also slightly different. You'll understand why if you continue reading.
How to make chai latte my way:
first of all, you have to make chai tea (tips for this down below);
then make espresso or strongly-brewed coffee; (proud to recommend my very own Better Than Yesterday blend which you can try HERE!)
in a saucepan, add the coffee and chai tea followed by maple syrup, almond milk, and coconut milk;
simmer on medium-high heat for approximately 5 minutes whisking occasionally;
remove from heat and use an immersion blender to froth;
pour into your favorite mugs and serve.
As you can see, learning how to make chai latte at home is easy. But there are a few more things you should know…
WHAT IS A CHAI LATTE?
Let me explain why I mentioned my chai latte is different than regular chai latte. Typically, the chai latte ingredients are:
chai tea;
and steamed milk.
Basically, chai latte is a usually mix of masala chai and steamed milk. It's called chai latte because the milk is steamed and frothed before being added to the chai. The same technique used for making regular lattes.
HOW TO MAKE CHAI SPICE
I talked about what's in a chai latte but I didn't tell you what is chai yet. And how to make chai. So here it goes…
Chai is made with a mix of…
cinnamon sticks;
black peppercorns;
star anise;
cloves;
cardamom pods;
ginger;
water;
pure maple syrup;
almond milk;
black tea leaves or black tea bags;
And how to make chai…
place all the spices and milk (basically everything except for the black tea) in a saucepan;
bring to a boil;
remove from the heat;
add the tea;
cover the saucepan with a lid;
let steep for 10 minutes.
That's how you make chai. And this is the chai recipe you have to use to make your homemade chai latte. PS it's GREAT just on its own and even more amazing turned into a latte.
DOES A CHAI LATTE HAVE CAFFEINE?
Since my chai latte recipe requires coffee, you already know the answer – chai latte does have caffeine — if you use caffeinated coffee. But what about the regular kind – does a regular chai latte have caffeine? The answer is also yes. Because chai latte is made with black tea and black tea has caffeine.
How much caffeine is in chai latte? Well a 16-ounce cup of chai latte has approximately 95 mg of caffeine.
If you make my healthy chai latte it will have more. Around 77 mg more, depending on how strong you make the coffee.
HOW TO FROTH MILK FOR A CHAI LATTE
To make the chai latte similar in texture with the chai latte you can buy at a coffee house, you have to learn how to froth milk.
I like to use an immersion blender and just mix all the ingredients together in the saucepan.
You can also transfer the chai latte ingredients to a high-speed blender and blend;
Or, if you don't have an immersion blender or a high-speed blender, you can use a whisk to mix the ingredients together until froth is formed.
Another easy option is to just transfer the chai latte mixture from the saucepan to a mason jar and, with the lead on, shake the jar until froth forms.
All these options will give you the same result. Choose the one that's more convenient for you.
WHAT IS A DIRTY CHAI LATTE?
If you visit coffee shops regularly, you probably spotted dirty chai on the menu. Wondering what is dirty chai? Dirty chai is my version of chai latte. Which means it's chai + steamed milk + espresso or strongly brewed coffee.
BTW, you can serve dirty chai latte hot or cold. If you prefer the cold version, pour the chai latte over ice for an iced dirty chai latte or transfer it to a blender, add ice cubes, and blend until smooth for a blended dirty chai latte.
All of these options are amazing. After all, a healthy chai tea latte is involved in all of them. Personally, I prefer the cold version during the summer months.
HAVE ANY COFFEE BEAN RECOMMENDATIONS?
I love making lattes at home because there's full control over the quality, flavor, and ingredients that go into your cup. For my "dirty" version (since it has coffee in it), I'm happy to recommend my very own clean coffee blend so you get that premium brewed coffee experience.
The beans are high-quality, 100% organic, and absolutely delicious! Plus, it's fair trade.
Available now at cleanish.com.
TIPS FOR MAKING YOUR CHAI LATTE EXTRA DELICIOUS
With all the spices involved in this chai latte plus the almond milk and coconut milk, I'd say there's enough flavor. But if you want more, you can always add…
an extra pinch of cinnamon sprinkled on top;
or an extra pinch of any of the spices used to make chai.
The most amazing thing about making a homemade chai latte is that you can adjust its flavors to suit your preferences. You can add or remove spices until your taste buds are happy with the result.
MORE HEALTHY COFFEE RECIPES
I'm not done with all these amazing coffee options. After you've mastered the chai latte recipe, move on to other amazing coffee recipes. Spoiler alert – flavored coffee creamer, other latte flavors, and a healthy coffee smoothie ahead!
HOW TO MAKE COFFEE CREAMER + 5 EASY FLAVORS
If you don't want to make a chai latte or other lattes every day, you can learn How to Make Coffee Creamer. You're still gonna get your flavored coffee but in an easier way since coffee creamer keeps in the fridge for up to 5 days.
If you learn how to make coffee creamer at home, whenever you want a healthy flavored coffee, you can open the fridge and find a cinnamon, chocolate, hazelnut, peppermint mocha or french vanilla coffee creamer in there. Or all of them if you want to experiment with coffee flavors daily. Get the recipe.
HOW TO MAKE HOMEMADE LATTES + 4 LATTE RECIPES
You just learned that whenever you crave a latte, you can make it at home instead of going to a coffee shop. If you're still not sure of your skills, I have more tips for How to Make Homemade Lattes.
Also, 4 Latte Recipes so you can have options. Aside from the chai latte, you have eggnog latte, mocha latte, and vanilla latte. Get the recipes.
HEALTHY COFFEE SMOOTHIE RECIPE
If you're not the type of person who is hungry during mornings, make yourself a Healthy Coffee Smoothie Recipe.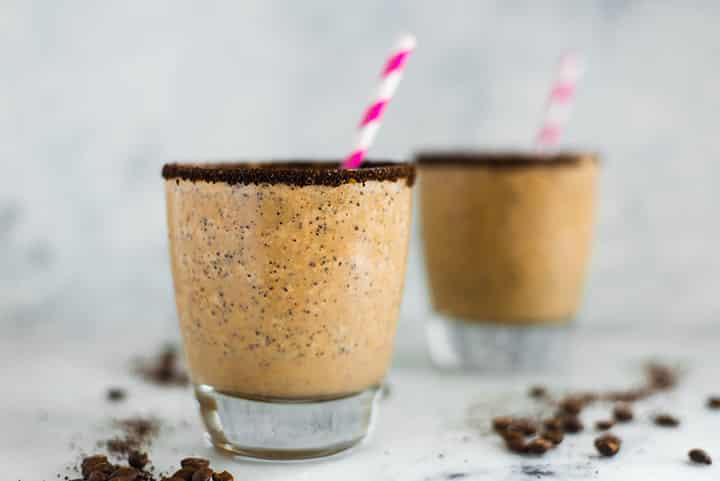 It's coffee but it's also breakfast. So you don't have to skip breakfast or to force yourself to eat when you're not hungry. WIN! Get the recipe.
Chai Latte
Mix the flavors of Chai Tea with the flavors of a classic latte and make a healthy and delicious homemade Chai Latte.
Categories:
Clean Eating, hot drinks, latte, No Refined Sugar
Ingredients
For the Chai Tea:
2

cinnamon sticks,

broken into pieces

2

tsp

whole black peppercorns

2

star anise

1

tsp

whole cloves

2

cardamom pods

1 2-

inch

piece fresh ginger

thinly sliced

4

cups

water

2

tbsp

loose-leaf black tea

or 6 black tea bags

1/3

cup

pure maple syrup

3

cups

unsweetened almond milk
For the Latte:
1 1/4

cup

strongly-brewed coffee or espresso

(Try the best organic coffee beans here!)

1 1/4

cups

chai tea

(see recipe above)

1/3

cup

pure maple syrup

3/4

cup

unsweetened almond milk

3/4

cup

full-fat coconut milk,

at room temperature
Instructions
Combine all of the ingredients in a saucepan over medium-high heat. Simmer for 5 minutes, whisking occasionally, until heated through and slightly frothy on top.

Divide into four mugs and serve hot.
Nutrition Facts
Chai Latte
Amount Per Serving (1 cup)
Calories 119
Calories from Fat 18
% Daily Value*
Fat 2g3%
Sodium 265mg11%
Potassium 339mg10%
Carbohydrates 23g8%
Protein 1g2%
Vitamin C 0.2mg0%
Calcium 296mg30%
Iron 0.7mg4%
* Percent Daily Values are based on a 2000 calorie diet.
This post contains affiliate links for products I use often and highly recommend.