Coffee? LOVE! Chocolate? LOVE! Coffee with chocolate? Are you kidding me?? Especially when all the ingredients are clean and healthy.  Count me in! This mocha latte is a healthy and easy chocolate latte (with optional) peppermint flavors that you can make at home without an espresso maker.
Once you start talking about what you love, it's hard to stop. Am I right? Well, after talking about my homemade vanilla latte, I realized I have to talk about this mocha latte too. Because coffee… with chocolate flavor. LOVE.
I mean… YUMMY.
Aside from my love for coffee, I realized I actually really love the process of making flavored coffee at home. With the simple ingredients you choose, you can adjust the flavors, you can make lattes healthy, and you can have full control. Plus, the first sip of a latte is always better when you make it yourself.  It's science.  😉
When I say I love coffee, it's the 100% truth. I love it so much I created my very own (organic and fair trade) bean blend. Try it out!
As you recreate a coffee house drink, like I did with this healthy mocha, you not only get a better taste, but a sense of pride. And your wallet is happier since it's a FRACTION of the price.
Because let's be real, buying lattes from a coffee shop on a regular basis is an expensive habit. And, since it's not very healthy either, considering the ingredients used in a mocha latte (or any other latte), learning how to make a mocha latte at home is the way to go.
Believe it or not, making a homemade mocha latte is actually very easy. And you don't need expensive appliances to make it happen. I'll teach you how to make a mocha latte without an espresso machine and I'll walk you through the process of making a latte a home at the same time so you can experiment with all your favorite flavors.
HOW TO MAKE THE PERFECT HOMEMADE MOCHA
My mocha latte recipe is slightly different. That's because I like my mocha latte healthy. Also, because I like to use a simple process for making lattes at home. Let's talk about the steps for how to make a mocha latte at home:
prep the ingredients;
make espresso or strongly brewed coffee (you can double the amount of coffee grounds for stronger coffee);
combine all the ingredients in a saucepan over medium-high heat;
use an immersion blender to mix everything together and to create that frothy texture that's typical for a latte. You can also use a mason jar or a whisk if you don't have an immersion blender.
And here are the mocha latte ingredients I use:
strongly-brewed coffee or espresso;
unsweetened almond milk;
full-fat coconut milk;
cup pure maple syrup;
2 dark cocoa powder;
pure vanilla extract;
peppermint extract (optional, for peppermint mocha).
WHAT IS A MOCHA?
I spoke about how to make a mocha and the mocha latte ingredients used in my mocha recipe but… what is a mocha? Also, what is a mocha latte?
Well, mocha coffee, also known as mocaccino or mochaccino, is a type of coffee with chocolate flavor.
Traditionally, mocha is made with mocha coffee beans, a type of coffee beans that have a natural chocolate flavor. Plus milk. That's it. For a classic mocha, we use less milk than for a latte.
Most people confuse mocha coffee with mocha latte. Like every latte, mocha latte is made with more milk. Frothed milk, to be specific. To add the chocolate flavor, chocolate syrup is usually used.  But that usually has a ton of refined sugars and artificial flavors.
ARE MOCHA LATTES HEALTHY?
Well, it depends… If you ask me, I can tell you that my mocha latte is healthy. If you purchase your mocha latte from Starbucks… not really.
The list of mocha latte ingredients from Starbucks includes: espresso, steamed milk, and mocha syrup. The milk and the espresso are totally fine. The mocha syrup… not so much. Coffee syrups are filled with sugar, artificial flavorings, and other ingredients that are not very good for you. Not to mention, it's almost 400 calories per cup. Wow.
I'd say stick to my mocha recipe if you want a healthy mocha latte.
KEEP IN MIND: The quality of coffee plays a role as well. If you buy the cheapest beans you can find, chances are you'll be consuming pesticides, herbicides, and chemical fertilizers. Go with my Cleanish Coffee Blend if you're looking for top-notch quality.
CAN I MAKE A MOCHA WITHOUT AN ESPRESSO MAKER?
Why yes, of course. Many people don't make their own lattes at home because they think they can't. But that's not true. All you need to make a mocha latte is:
a way to make strongly-brewed coffee or espresso;
a way to steam the milk;
and a way to froth the milk.
Here's how to make a mocha latte at home with tools and appliances you already have in the kitchen:
For the strongly-brewed coffee or espresso, you can use your coffee filter and coffee machine. Make the coffee stronger than usual and you're set.
How to steam milk for latte? I prefer to combine all the ingredients for the mocha latte in a saucepan because I like the flavors better. But you can steam milk separately in the microwave or on the stove. More tips for this later.
For frothing milk, I use an immersion blender but, if you don't own one, you can use a whisk and stir or a mason jar and shake. Stir or shake until foamy.

HOT MOCHA VS. ICED MOCHA LATTE
This mocha recipe makes a hot mocha latte. However, if you want to turn this mocha recipe into an iced mocha latte recipe…
replace the coffee mugs with tall glasses;
allow the latte to cool closer to room temperature;
place ice cubes into the glasses;
pour the mocha latte over the ice.
Your iced mocha latte recipe is ready!
HOW TO STEAM MILK FOR A LATTE
Do I really have to learn how to steam milk for a latte? Well, technically, yes. Otherwise, you'll be making a macchiato, not a latte. A latte needs its aerated milk. To make froth, you need steamed milk. The froth bubbles won't hold without heat.
You can use the steps in my mocha recipe or you can easily steam milk for a latte in a saucepan (or in the microwave as previously stated). To steam the milk:
pour the milk into the saucepan;
 if you have a thermometer, place it in the saucepan to check the milk temperature;
heat the milk on medium heat until it reaches 150 degrees F (140 degrees F for soy and coconut milk and 130 degrees F for almond milk). Be careful not to burn the milk.
WHICH COFFEE BEAN TASTES THE BEST?
To each their own when it comes to coffee bean flavor! One thing that makes a difference – regardless of the flavor profile – is quality. If you drink coffee long enough, you'll be able to discern between good coffee beans and the lower quality options.
I like to keep things clean and always buy organic when I'm not drinking my own Better Than Yesterday blend – which I encourage you to try out! It strikes a nice balance between bright, sparkling fruit and deep, roasted flavor…if you're into that sort of thing ; ) 
ADDITIONAL MOCHA FLAVORS
If you want to experiment with other latte flavors or to add a special touch to your mocha latte recipes, go to your pantry and see what spices and extracts you have there.
You can try a dash of:
peppermint extract – I like to add peppermint extract to my mocha during Christmas time. Chocolate + peppermint = perfect Christmas flavors;
almond extract – chocolate + nuts is another great flavor combination. In general. But it's so good in this mocha latte too.
orange extract and orange zest for garnish – for a refreshing chocolatey latte.
cinnamon – if you want a latte that tastes like snickerdoodles. But without the guilt. So YUM.
cherry extract — cherry + chocolate = amazing.
other spices you like such as cardamom, allspice, nutmeg etc.
When dealing with extracts, you have to know that a little goes a long way. Start with a drop or 2 and work your way up if you want more flavor. You can be more generous with the spices though.
MORE HEALTHY ESPRESSO DRINKS
Making flavored coffee and lattes at home started to sound amazing, am I right? Well, good because I have other espresso drink recipes I think you'd like. Personally, I love them all. Once you start making espresso recipes at home, it's hard to go back to sugary-filled espresso drinks from coffee shops. And you shouldn't do it anyway.
HOW TO MAKE COFFEE CREAMER + 5 EASY FLAVORS
While I love my lattes, there are days when I don't have time to make them. Even though they don't require a lot of time and effort. But, once I learned How to Make Coffee Creamer, my flavored coffee is not just for special days.
Coffee creamer lasts in the fridge for up to 5 days so, any time you crave some flavor in your coffee, you can reach out for your healthy and yummy coffee creamer. I have 5 flavors for you: French Vanilla Creamer, Peppermint Mocha Creamer, Hazelnut Creamer, Chocolate Creamer, and Cinnamon Creamer. Get the recipes.
HEALTHY COFFEE SMOOTHIE RECIPE
This Healthy Coffee Smoothie Recipe is perfect for those days when you wake up and you only have time for a cup of coffee before heading out.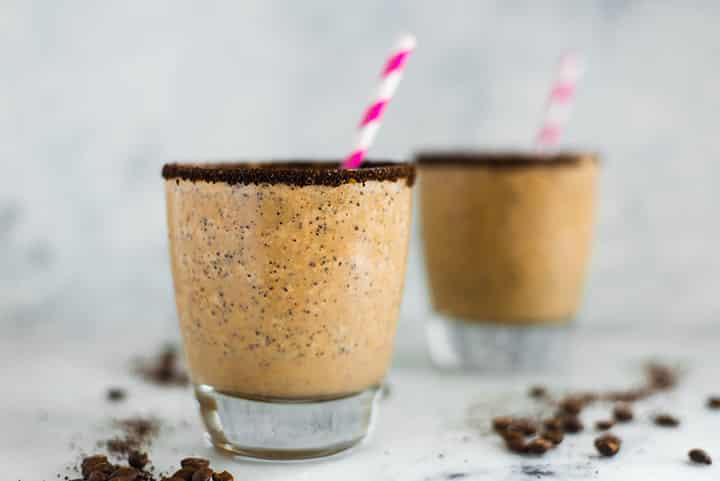 Since skipping breakfast is not ok, the Coffee Smoothies is perfect because it's breakfast and coffee in one drink. And it's ready in a matter of minutes. Get the recipe.
HOW TO MAKE HOMEMADE LATTES + 4 LATTE RECIPES
If you want more tips for How to Make Homemade Lattes + 4 Latte Recipes, I've got you covered.
Get all the info you need and 4 healthy latte recipes you can make at home. Aside from the mocha latte described in this post, you'll get recipes for eggnog latte, chai latte, and vanilla latte. Get the recipes.
MOCHA LATTE
Coffee? LOVE! Chocolate? LOVE! Coffee with chocolate flavors? An absolute dream! Especially when all the ingredients are clean and healthy. This mocha latte is a healthy and easy chocolatey latte with peppermint flavors you can make at home without an espresso maker.
Categories:
Clean Eating, coffee, hot drinks
Ingredients
2

cups

strongly-brewed coffee or espresso

(I suggest brewing it with my organic coffee beans)

3/4

cup

unsweetened almond milk

3/4

cup

full-fat coconut milk

at room temperature

1/3

cup

pure maple syrup

2

tbsp

dark cocoa powder

1/2

tsp

pure vanilla extract

1/2

tsp

peppermint extract

optional, for peppermint mocha
Instructions
Combine all of the ingredients in a saucepan over medium-high heat. Simmer for 5 minutes, whisking occasionally, until heated through and slightly frothy on top.

Divide into four mugs and serve hot.
Nutrition Facts
MOCHA LATTE
Amount Per Serving
Calories 191
Calories from Fat 99
% Daily Value*
Fat 11g17%
Sodium 72mg3%
Potassium 237mg7%
Carbohydrates 22g7%
Protein 1g2%
Vitamin C 1.2mg1%
Calcium 96mg10%
Iron 1.1mg6%
* Percent Daily Values are based on a 2000 calorie diet.
This post conatins affiliate links for products I use often and highly recommend.