Cauliflower Rice is the superstar substitute for regular rice. Low in carbs, it's a great way to eat more veggies. This post will show you how to make a healthy batch – quick and easy!
Maintaining a healthy lifestyle is easy when you find the right substitutes. And cauliflower standing in for rice is a swap made in heaven.
Because healthy does NOT mean tasteless! Healthy means delicious, flavorful, and full of amazing nutrients.
Cauliflower rice will be soon your best friend when transforming your favorite meals. Why? Well – you have to believe me – making it is just as easy as making regular rice.
In fact, it's actually a little easier!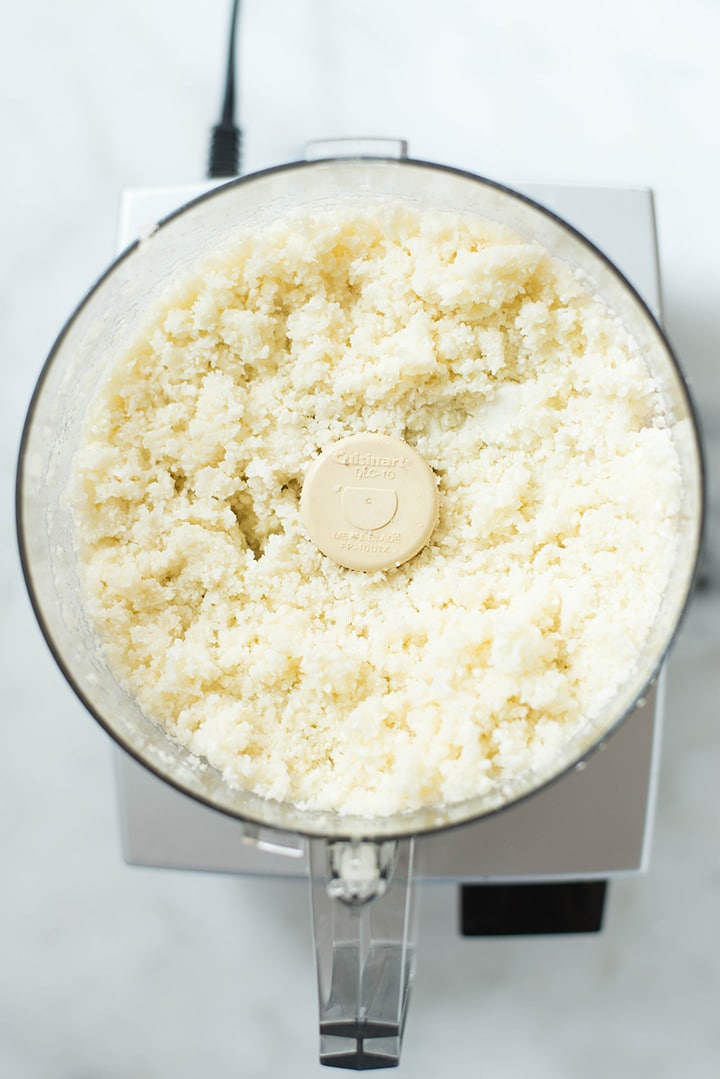 Is Cauliflower Rice Healthier Than Regular Rice?
You can see the benefits of cauliflower rice over regular rice when you look at the carb amounts. White rice has 45 g of carbs per cup. So, while you can enjoy rice as a side dish from time to time, eating it on a regular basis is not the healthiest.
How many carbs in this recipe? Get this. Only 5 g per cup!
Huge difference, right?!
And let's talk about the calories, too. Rice has approximately 218 calories per cup while cauliflower has only 25. Yes, seriously!
Is Cauliflower Rice Good For Weight Loss?
With low calorie and carb stats, cauliflower rice is a great choice when you're trying to lose weight. Nutritionally speaking, this superb vegetable is high in fiber, filled with B-vitamins, vitamin K, vitamin C, and antioxidants.
Additionally, this veggie is versatile and can be easily transformed into many delicious dishes like Cauliflower Gratin and Parmesan Roasted Cauliflower.
Want more? Take a look at these 10 Healthy Cauliflower Recipes.
Does Cauliflower Rice Taste Like Rice?
While white rice tastes relatively neutral, cauliflower takes on mild nutty flavors with a slightly bitter undertone (similar to cabbage). So, soft yes. It can have a similar flavor to rice but there are certainly differences.
Described as "delicate" cauliflower's flavor is not too overpowering. Like regular rice, this recipe will ultimately taste how you season it.
How Long Does Cauliflower Rice Last?
After it's cooked, cauliflower rice will last 1-2 days in the fridge (in a sealed bag or air tight container). It's not recommended to freeze cooked cauliflower rice but you could prep the cauliflower and freeze it raw. This will last up to 6 months in the freezer.
When you're ready to use it, transfer the frozen chopped cauliflower to the fridge the night before and allow to thaw. Then you're all set to transfer it to a pan and cook it up.
Prep 101: How Do You Make It With A Food Processor?
To prep with a food processor you simply:
Cut the cauliflower into small florets;
Add these to the food processor (the food processor should be ¾ full);
Pulse the cauliflower florets until small pieces are formed.
Tip: Stop pulsing and scrape the sides of the bowl. Pulse again. Repeat if necessary.
Prep 101: Can I Make It Without A Food Processor?
Yes! If you have a stand mixer then you can chop the cauliflower head into 3-4 pieces and then feed them through the blender.
You can also use an inexpensive cheese grater (which I'm 100% sure you have at home) with those large holes on the side. Here's how:
Cut cauliflower into larger florets
Push florets against the grater and shred.
TIP: A medium cauliflower head makes about 8 cups of cauliflower rice.
And trust me when I say, that's a lot!

How Do You Cook Cauliflower Rice?
The top two ways to cook Cauliflower Rice are stir-frying and roasting. I'll walk you through each below.
Stir-Fry
Grab a little bit of olive oil for this easy method:
Heat a pan on medium heat;
Add a little bit of olive oil and cauliflower rice;
Cook for approximately 7-10 minutes, stirring frequently;
Mix in your seasoning and stir to combine.
Roasted
This makes for a delicious side dish:
Drizzle a little bit of olive oil over cauliflower rice and toss;
Spread evenly on a baking sheet;
Roast in the oven for 20-25 minutes at 400 degrees F.
*Mix the tray halfway through roasting to get it evenly cooked.
What Does Cauliflower Rice Pair Well With?
The pairing possibilities are endless but in case you need ideas, here are 2 healthy recipes that work well with this delicious substitute.
More Recipes Using Cauliflower
I hope learning how to make this recipe made you realize how amazeballs cauliflower is. And I have 3 more recipes to prove it!
How To Make Cauliflower Rice
Are looking to substitute your white rice with cauliflower but aren't sure where to start? This post is a complete guide that will teach you how to cook tasty cauliflower and with recipe suggestions too!
Categories:
Clean Eating, gluten free, Healthy, Healthy Eating, Low Carb, Paleo, Side Dish
Keyword:
cauliflower rice
Ingredients
1

large

head cauliflower

1

tbsp

olive oil

1 1/2

tsp

sea salt

1/2

tsp

ground black pepper

1/2

tsp

garlic powder
Instructions
There are two ways to turn the cauliflower into rice-size pieces: (1) using a kitchen grater on the larger holes or (2) in a food processor.

(The food processor makes this way quick and easy so I recommend it if you have one). If using a grater, keep the cauliflower whole and grate as you would cheese. If using a processor, break the cauliflower into florets – it may be necessary to do this in 2-3 batches.
How To Make Cauliflower Rice on the Stove
Heat the olive oil in a large pan over medium-high heat.

Add the cauliflower "rice" and cook, stirring occasionally, until the cauliflower rice is tender and just slightly golden brown, about 7-10 minutes.

Mix in the remaining salt, pepper, and garlic powder into the cauliflower rice and stir to combine.
How To Make Cauliflower Rice in the Oven
First, start by preheating your oven to 400 degrees F and lining a rimmed baking sheet with parchment paper.

Lay out the "rice" evenly on the rimmed baking sheet, and place into the oven.

Roast the cauliflower for 20-25 minutes, tossing halfway through, until the cauliflower is tender and starting to brown around the edges of the pan.

Remove from oven and allow to cool.

If using the cauliflower rice to make cauliflower tortillas or cauliflower pizza crust, it is necessary to squeeze the liquid out of the rice.  Once the cauliflower rice is cool enough to handle, place it into a thin clean dish towel or cheesecloth and squeeze out as much excess liquid as you can. This will be very helpful when it's time to cook because they won't be super liquidy. You can just discard the liquid once you've gotten as much out as you can.
Recipe Notes
Nutritional info provided is for cauliflower rice cooked on the stove.  Cauliflower rice cooked in the oven will contain less calories and fat since that method does not use any oils.
Nutrition Facts
How To Make Cauliflower Rice
Amount Per Serving (0.5 cup)
Calories 85
Calories from Fat 36
% Daily Value*
Fat 4g6%
Sodium 935mg39%
Potassium 627mg18%
Carbohydrates 10g3%
Protein 4g8%
Vitamin C 101.2mg123%
Calcium 46mg5%
Iron 0.9mg5%
* Percent Daily Values are based on a 2000 calorie diet.
This post contains affiliate links for products I use often and highly recommend.