Intermittent fasting doesn't have to be complicated! This post will guide you on creating a simple Intermittent Fasting Meal Plan, along with lots of recipe suggestions!
Because Intermittent fasting works for me, I've researched and blogged about it A LOT. You may have already read my post about Intermittent Fasting For Weight Loss, and the IF basics (What Is Intermittent Fasting And Can It Help You Lose Weight?).
But now, let's get right into the thick of things and talk meal planning.
At first glance, it seems pretty straightforward; all you got to do is eat during your window, right?
But what exactly do you eat when you aren't fasting?
Most of my clients get intimidated by their eating window. They aren't sure what is OK to eat, how much, and the timing of it all.
SO that is why I created this blog post! Through the power of example, you'll see a complete meal plan (schedule included) which you can follow to a T, if you feel compelled.
What Can I Eat On An Intermittent Fasting Meal Plan?
Truth is, anything (within reason)! When it comes to an intermittent fasting meal plan, it's not necessarily about the type of food you're eating but the timing.
But you know me, I always suggest pairing IF with nutritious and well-balanced meals. I mean at the end of the day, if you eat 3 Big Macs during your eating window then you most likely won't reap the benefits.
Ultimately, the good news is, you can be keto or clean eating or not even follow a specific lifestyle.
PLEASE REMEMBER: Because this is a fast, your body is going to need love and nourishment. Which translates to… nutrient-dense food!
Do You Still Eat 3 Meals When Intermittent Fasting?
Intermittent Fasting can still average to 3 meals a day when you do it mindfully. My first meal of the day is a combo of what I'd call breakfast and lunch. I've been making a breakfast burrito for this meal lately, and it's so good.
And in the afternoon, I'll have a large snack. If you follow me on Instagram, you already know it's pretty much the same meal every single day because I love it so much!
But don't worry, I appreciate variety, too! Check out this post on My Fave High Protein Snacks For Weight Loss.
And last but not least, I'll have a small dinner. Most likely another wrap because they're so easy to put together and filling, too!
What Does An Intermittent Fasting Schedule Look Like?
Aren't exactly sure how to plan your meals when fasting? Don't you worry, I got you! My intermittent fasting schedule doesn't look all that different from my natural routine.
Generally, my eating window is from 11:30 am to 4 pm each day. This is about 5 hours of eating time each day. And that leaves the rest of the day (19 hours) for fasting.
This schedule works best for me because, as I said, it feels close to my normal day. You might find it more challenging if you're used to eating dinner very late. There are other ways to make IF work for you and your routine, which you can read more about here.
Overall, this setup leaves me feeling full when I'm eating, which I appreciate, and I don't obsess about food for the rest of the day. This is a welcomed change after a long history of yoyo dieting and Weight Loss Mistakes.
ALSO: I like to stick to my routine but it's not completely set in stone. There's room for some flexibility if I have to eat earlier or later in the day. Just adjust accordingly.
Morning
Here's what my busy morning looks like! It's still fasting time for me but I make sure to drink lots of water and some coffee.
My goal is to drink 160ish oz of water a day and it's better when I reach this goal earlier in the day (fewer trips to the bathroom at night!).
6:45 am: 24 ounces of water
8 – 9 am: Gym + 24-48 ounces of water
10 – 11:30 am: 1-2 cups of my freshly brewed clean coffee with half and half. And more water!
Brunch
11:30 am: I've made it! Now it's time for my combination of breakfast and lunch.
I've really been enjoying Ezekiel cinnamon raisin muffins with some Vital Farms organic butter. I add ½ tbsp of butter after the muffin is toasted and it's so good. Each muffin is about 80 calories.
Then I move on to something more savory. My current favorite is this Frozen Burrito recipe. It's a high protein, filling, and healthy option for your first meal of the day.
Remember: You can eat what you choose during this window. If you want to eat more, eat more! I always add a side of berries or other fruit for more carbs.
Each burrito contains…
13g protein
5g of fiber
350 calories
By this time I'm solidly hungry so it helps that they are made ahead and ready to go! Hunger is something that many people struggle with on IF especially when just starting.
If you have a high hangry response, like yours truly, it's important that you plan ahead to make things easier on your body and mind. This shines some light on the importance of Meal prep.
Learn more about planning your meals for the week and get 30+ Easy and Delicious Meal Prep Ideas.
Snacktime
3 pm: Time for my LARGE snack!
I either whip up a fresh batch of my Lemon Blueberry High Protein Pancakes or grab a few out of the fridge that I prepared previously in the week (it's a meal prep recipe!).
I top these babies with some yogurt, honey, fresh blueberries, and some lemon zest for garnish. GAH, it's SO good!
As I eat 3 pancakes, it comes to…
I'll also prepare a protein shake to help me reach my protein goal of 150g per day. While I have many options, this Chocolate Banana Peanut Butter Protein Shake is one of my all-time favorites. I add cleanish Chocolate + Sea Salt Protein Powder for a totally awesome tasting boost.
1 serving of this smoothie has…
39.7g protein
7.4g fiber
39.9g carbs
450 calories
Small Dinner
4 pm: For my final meal, I often enjoy another wrap. This Avocado, Turkey, and Hummus Wrap is quick, healthy, and delicious. It feels a little lighter than the one I had for breakfast but is still filling.
It contains:
24g of Protein
10g of Fiber
340 Calories
AND it includes 2 of the 8 Best Foods For Your Skin.
If I need more carbs, I'll grab a few berries or whatever fruit we have that week. Another great option for a small dinner is my Slow Cooker Chicken Burrito Bowls.
IMPORTANT: Make sure you're treating your digestive system well (it's very important). To do so, make sure you eat enough fiber. Read more about 21 Top Foods High in Fiber.
Does Lemon Water Break A Fast?
If you mean plain water and lemon juice then no, it won't break a fast! Lemon juice has little to no carbs compared to other fruit juices so if you're looking to add some flavor to your water, go for it! Lemon water has a bunch of benefits.
Just make sure that you don't go over 3 ounces of lemon juice, otherwise, your metabolism will notice the 0.3 grams of sugar from the lemon (breaking out of fast mode).
LEARN MORE: 9 Amazing Benefits of Lemon Water + How To Drink It
Why Am I Gaining Weight On Intermittent Fasting?
There could be various reasons as to why you can't seem to shed those unwanted pounds. But based on experience these are the most common causes of weight gain while on IF.
You're eating too much during your window: Like I said, if you're eating way too many calories to sort of "bulk up" for the hours you are fasting then it won't work. Also, if you eat a lot of carbs and high-calorie foods full of sugar, you will, no doubt, gain weight as opposed to losing it.

You're not eating enough during your window: Suprised aren't you? How is that? If you don't eat enough in your eating window, you increase the chances of binge eating in your next window due to sheer starvation. You'll be so hungry, you may start eating and not stop.

I recognize that fasting can be a slippery slope for some. Please understand that disordered eating is harmful both short term and long term. And you are never alone. If you are struggling, please reach out to Eating Disorders Helpline.

You're not eating enough protein: No matter which intermittent diet you're on, you need protein! Whether it's vegan protein, protein powders like the cleanish Brand Protein Powder, or sources like lean meat and chicken, protein is an essential building block.

Protein is important for muscle mass and recovery after you exercise. It's good for bone health, too.
WIll Intermittent Fasting Affect My Period?
It's important to point out that women can experience changes to their menstrual cycle when fasting. For some, this is no biggie. But if you're trying to become pregnant or you notice a complete absence of your period, it's a good sign that something is off balance and needs to be adjusted.
There's evidence that having a regular cycle is an important marker of overall health, so it's worth tuning in. Read more in my complete guide on Intermittent Fasting For Women.
How Long Before You See The Results of Intermittent Fasting ?
You probably know this by now, but any diet takes time to show results. And intermittent fasting is no exception! However, a study shows that IF participants lost between 4.6% and 13.0% of their baseline body weight over 8 weeks to 1 year. Which is pretty significant!
For sure, those who exercised (see my post on the best time to exercise here) saw increased results over those who did not. Daily activity is good for you in many ways, so get out there and move!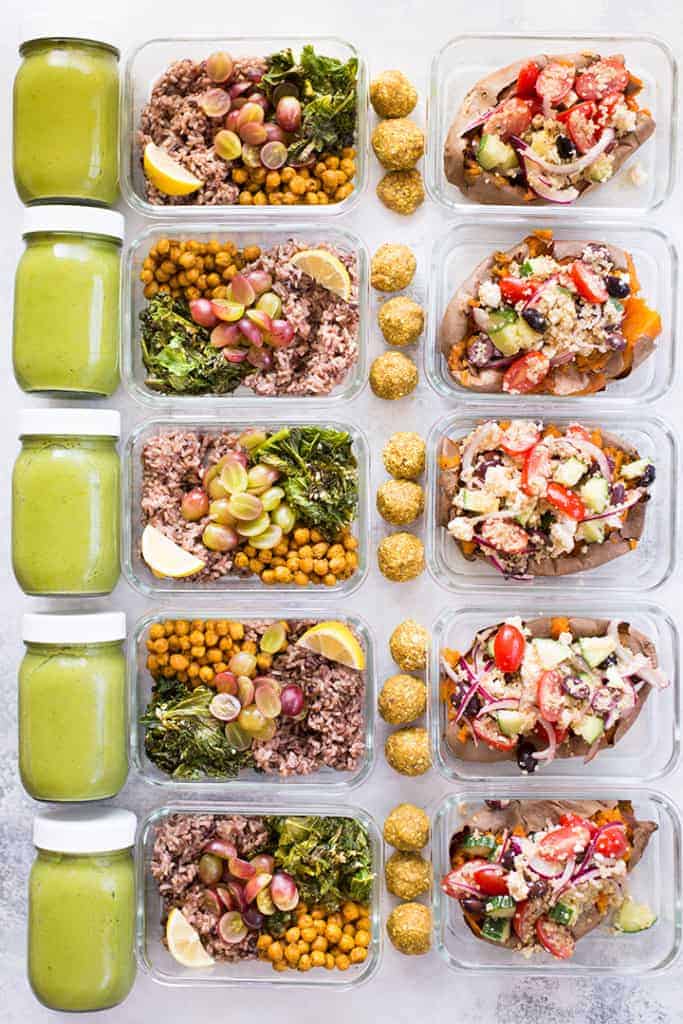 More Resources On Intermittent Fasting And Weight Loss
Losing (and maintaining) a healthy weight is my mission and I aim to bring you the best research out there, in an easy-to-understand format. Learn more:
This post contains affiliate links for products I use regularly and highly recommend.