Whether you're looking to shed those last few pounds or jumpstart your weight loss journey, I've got you covered. This post shares how to lose 5 pounds fast!
First things first when it comes to quick weight loss. You can do it the healthy way OR in ways that'll make your inner guide raise its eyebrows.
We're focusing on the first, obviously, because life is too short to treat our bodies with disrespect.
After all, crash diets are proven to not have long-lasting effects…other than a wide variety of negative health consequences.
If you know me, you know I talk a lot about my weight loss journey. I was able to write about 12 Worst Weight Loss Mistakes (And How to Avoid Them!) because believe me, at some point along the way I made each and every mistake!
It's empowering to share our struggles – I think – so if you want to hear more about my personal journey, check out this post: My Struggle With Weight.
But if you're here looking at how to lose 5 pounds fast, you likely don't have much time to spare.
So let's get started : )
How long should it take to lose 5 pounds?
It generally takes 2-3 weeks to lose 5 pounds in a healthy and sustainable manner.
So it's important to know why this is important to you. If y'all know my story, I struggled with my weight for years!
So my advice for this to work would be:
First, be clear on why you're doing it so you can set a healthy deadline.
Second, be willing to commit to a few simple habits in the next few days (or weeks).
Ultimately, the healthiest approaches are the most sustainable ones, that make your body feel GOOD.
Can You lose 5 Pounds In a Week?
This is doable. But you'll mostly be shedding off water weight (short-term approach) and not fat (long-term and more sustainable approach).
KEEP IN MIND: Losing 5 pounds in 1 week is not generally recommended week after week. I personally would only suggest doing it for one week (if that) and then aiming for 1-3 pounds in the weeks that follow.
According to The National Institutes of Health (NIH), the recommended target would be to lose a pound or two a week. This gradual weight loss is within a healthier time frame. It's sustainable and will give you great results over time.
Can You Lose Weight by Walking?
Walking can help you lose weight absolutely! I've been in the step-counting club for quite some time now, and one of my biggest breakthroughs in weight loss was realizing the importance of "calories in, calories out" (without overdoing it and I've been there too).
So by getting your steps in and moving, you're able to burn those extra calories which can speed things up significantly.
8,000-10,000 steps a day is awesome. But if you're just starting and that sounds like too much, simply focus on moving more than you usually do.
Baby steps y'all! Pun intended.
How Much Water Should I Drink to Lose Weight?
Along with keeping you hydrated and doing wonders for your skin, drinking water is great for weight loss. How much? It's best to drink the amount of water that equals half your weight, in ounces. Daily!
For example, I weigh 140 pounds so I should be drinking around 70 ounces of water every day. More so if I exercise.
Say you drink around 8 glasses a day, that's approximately 60-70 ounces. That's pretty good! Simply adjust this amount according to your weight.
8 Things to Try for Healthy Weight Loss
We've talked about why it's important to get clear with a realistic goal and some basic hacks. Below are more simple and sustainable things you can do to shed those 5 pounds fast. Here we go!
Drink the right amount of water daily: I can't stress this enough so I will repeat it here: HYDRATION IS KEY. Did you know that sometimes dehydration can be mistaken for hunger? Imagine having a snack for every time you think you're hungry when all you needed was a zero-calorie glass of water.

Bonus tip: have a full glass of water before each meal. This will help fill you up faster and make you eat less. Water is a natural appetite suppressant and can help you burn even more calories. I'll cheers to that!
Drink apple cider vinegar (ACV): I'll jump right into it. ACV is amazeballs. It's not just hype, there are studies that support its aid in weight loss. It helps induce satiety and assists with digestion too, among loads of other benefits.

NOTE: Apple Cider Vinegar is not recommended if you have stomach ulcers or kidney problems.

You should drink 1-2 tablespoons per day mixed with water. And you can even turn it into a tonic or incorporate it into a salad dressing.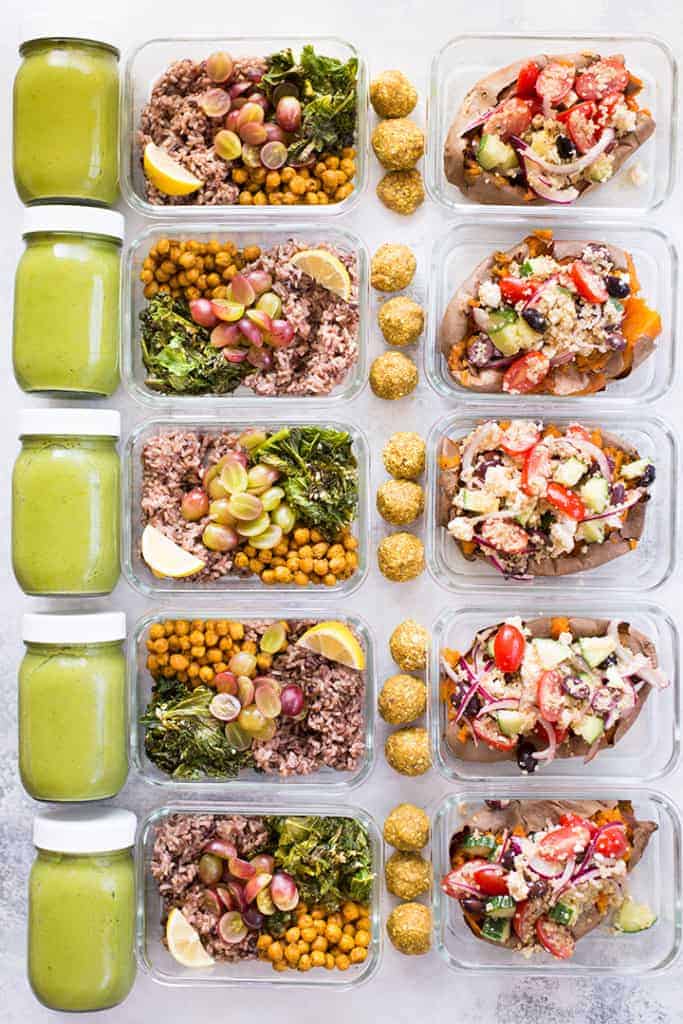 Learn to portion control: Portioning your meals isn't about reducing your carbs to a sad tablespoon each meal or doing away with it altogether. It's about knowing how to balance your meals better.

Go heavy on fruits and veggies, fewer on the whole grains and complex carbs, and make sure to get lean protein.
Prep your meals: Meal prep is a simple and easy way to track your food intake. Whether you just want to stay away from over-processed foods and eat healthy to build muscle, lose weight, or simply feel better…meal prep is a great (GREAT) idea.

When you meal prep, you can control your portions and ensure you're eating healthy ingredients. I talk about this more in my 7-Day Meal Prep for Weight Loss post which you can check out!
Try intermittent fasting: This isn't for everyone but if you get used to it, intermittent fasting (IF) can do wonders for your weight loss. It's a time-restricted fast (anywhere from 12-14 hours) from your dinner to breakfast.

It helps you consume the same amount of calories in a condensed time so there's more control over your intake and your digestive system gets a rest.

I personally have experienced amazing results from IF and what works best for me is fasting from 7pm to 9:30am. If this sounds like your jam, check out my brand-spanking-new Intermittent Fasting Meal Plan.

NOTE: If you're pregnant, nursing, trying to conceive, have diabetes or insulin concerns, please do not try this. 
Skip the sugary drinks and/or alcohol: Because you're supposed to be drinking more water anyway, this should be a little easier 😉 REALLY: If you regularly drink soda or alcohol, cutting these is going to have such a huge impact.

A regular soda packs in 120-190 calories while a glass of red wine has around 125. Eek! Not only are sugary drinks loaded with calories but they can eventually lead to diabetes, heart, and other chronic diseases.

Alcohol on the other hand can disrupt your sleep pattern which is bad for weight loss.

If you have trouble drinking water on its own, get creative and make your own healthy juices or infusions.
Avoid processed foods: If you want to lose weight fast, this includes cutting back on sodium. Excess salt makes you retain water and therefore, causes bloating. So swap your instant ramen for a healthier alternative (maybe your new meal prep recipe?).

Or try switching your cookies or chips to fruits or yummy energy balls. Yum!

Another example: Instead of mayo, use greek yogurt. Peep these 35+ Easy Greek Yogurt Recipes – yes you can so so many excting things with greek yogurt! Weight loss does not have to be dreary.
Use your blender: If ya ain't a fan of meal prepping, try blending your food which is faster and can pack a nutritional punch.

Bonus tip: replace one of your meals with a healthy and yummy protein smoothie. I'm in love with smoothies because they're so delish, loaded with nutrients, and are super easy to make! And to add extra nutrition to my smoothies and shakes, I add cleanish Brand Protein Powder (Dustin and I developed it and we're super proud of the fantastic results) in either Chocolate + Sea Salt, Caramel Latte or Vanilla Bean flavors. Yum!
More Help With Weight Loss
There you have it! 8 simple, safe, and sustainable ways to lose weight fast. Remember that it's not about ticking as many of these off but choosing a few that work for you, your goals, and your lifestyle.
If you like what you just read, here are some other of my posts on weight loss:
This post contains affiliate links for products I use regularly and highly recommend.