Learn how to stay healthy during Thanksgiving and how to make 4 easy, delicious, and healthy Thanksgiving side dishes that are ready in less than 30 minutes and made with 6 ingredients or less.
Can you believe it's November? It seems like yesterday it was summer and I was talking to you about summer recipes. And, today, here I am planning my Thanksgiving menu and talking to you about healthy Thanksgiving recipes. It's crazy, isn't it?
However, I can't complain because I'm excited for Thanksgiving. What's not to love about Thanksgiving? You get to spend a day with your loved ones enjoying tons of delicious food.
And Thanksgiving food is so delicious. Am I right?
Unfortunately, not all Thanksgiving dishes are healthy, though. Darn it!
But don't worry, I'll help you create a healthy Thanksgiving menu by sharing with you my favorite healthy side dishes for Thanksgiving.
By the way, these easy Thanksgiving side dishes are each ready in less than 30 minutes AND they require just 6 ingredients or less. Woot!  Say hello to a much easier Thanksgiving!
On the list of healthy Thanksgiving sides we have: homemade cranberry sauce, mashed sweet potatoes, garlic parmesan green beans, and cauliflower mashed potatoes.
These healthy Thanksgiving side dishes are totes delicious and they will help you stay healthy during Thanksgiving without compromising on taste.
Life for realz, your taste buds will be happy.  I promise.
Now let's get started because, besides these Thanksgiving recipes, I want to teach you how to eat healthy on Thanksgiving, how to enjoy a healthy Thanksgiving dinner, and share with you my healthy Thanksgiving tips.
Sound good?
CAN THANKSGIVING BE HEALTHY?
YES! Thanksgiving can be healthy. In fact, any holiday can be healthy. You just have to know what makes the dishes not healthy in the first place. Then change those things. Simple enough, right?
No, seriously. It is that simple.
So….why is Thanksgiving unhealthy?
Let's talk about the traditional Thanksgiving sides…
Most traditional Thanksgiving sides contain numerous processed ingredients that are not healthy, like sugar, butter, and all-purpose flour.
Traditional Thanksgiving dishes are also quite high in fat because most of them require butter, sour cream, shortening, or tons of cheese.  Not good for you, either.
Thanksgiving dishes are also very high in sodium. That's not good, either.
The good news is – you can change all these things and transform the traditional Thanksgiving sides into healthy Thanksgiving sides.
TIPS ON HOW TO EAT HEALTHY ON THANKSGIVING
Okay, so now we know why typical Thanksgiving sideas are unhealthy…so how do we transform the best Thanksgiving recipes into healthy Thanksgiving dishes?  Here's how:
Change the regular high sodium, processed, and boxed turkey stuffing with a healthy stuffing made from whole wheat bread and low sodium chicken broth and learn how to roast a turkey.
Homemade gravy is the best gravy so learn how to make it from scratch, rather than relying on a package that's super high in sodium and processed ingredients.
If you don't want to skip dessert (because duh!), learn how to make pie crust without butter and then make a pie from scratch. You can opt for the traditional pumpkin pie made healthy or for a pecan pie. Or why not a sweet potato pie. Use coconut sugar instead of refined white sugar and make your own healthy coconut whipped cream.
Make a healthy and sugar-free cranberry sauce, rather than the high sugar, canned stuff.
As always, portion control is important so make sure you pay attention to what and how much you eat.
If you want to have a healthy Thanksgiving dinner, make sure you also:
Opt for vegetable dishes for Thanksgiving like my healthy green bean casserole, garlic parmesan green beans or my cauliflower mashed potatoes. These sides for Thanksgiving are easy to make, clean, and healthy.  They'll add a good amount of fiber and nutrients to your meal and are super tasty.
Plan your menu ahead of time and make sure you have all the ingredients for the healthy Thanksgiving recipes in your pantry or your fridge. In this way, you won't have to buy anything last minute and to opt for canned ingredients because fresh ones are not available anymore.
How to have a healthy Thanksgiving dinner if you're not spending Thanksgiving at home:
Tell the host you want to help with the dishes and cook something at home. You can prep one (or all) of the healthy Thanksgiving side dishes included in this post. Or you can make dessert. You'll have healthy options but you'll also help the busy host. I'd call that a win-win.
At the dinner table, start by filling your plate with veggies and add small portions of starchy sides.
Opt for skinless turkey breast since it's the healthiest part of the turkey and low in calories.
You won't be able to say no to every single unhealthy dish. So say yes to one. The one you love the most. It can be stuffing or mashed potatoes. Or a slice of pie. Just make sure you keep the rest of the options as healthy as possible.
MAKING HEALTHY THANKSGIVING SIDE DISHES
Whether you're spending Thanksgiving at home and you can make the entire dinner healthy or you plan to bring side dishes made at home to your Thanksgiving host, it is important to know how to make healthy Thanksgiving side dishes. Here are my tried and tested healthy Thanksgiving tips:
Replace sugar with raw honey when making cranberry sauce;
Use coconut sugar for pie and sweet potato casserole;
Use pure maple syrup in your mashed sweet potatoes instead of sugar;
Replace butter and cream with almond milk or full fat greek yogurt;
Opt for a low carb side dish. For example, choose cauliflower mashed potatoes instead of regular mashed potatoes. Or learn how to make healthy mashed potatoes.
Reduce the amount of salt;
Remove cream cheese;
Reduce parmesan cheese;
Use Greek yogurt instead of sour cream.
VEGETABLE DISHES FOR THANKSGIVING
Now that you know the basics, it's time to discuss our vegetable dishes for Thanksgiving.
The first vegetable dish for Thanksgiving is garlic parmesan green beans. Green beans make great Thanksgiving side dishes and the recipe I have for you is super easy. But you'll love the taste and flavor of the dish.
Next, we have the cauliflower mashed potatoes. This is another easy Thanksgiving side dish and it's also a low-carb alternative to mashed potatoes. Plus it's smooth, delicious, and the recipe can be easily altered to make the cauliflower mash vegan.
Mashed sweet potatoes are high on my top of favorite traditional Thanksgiving sides. So I needed a healthy version I can enjoy. The mashed sweet potatoes are still a delicious starchy side even when they are healthy. And they require only 3 ingredients – sweet potatoes, cinnamon, and maple syrup. Talking about easy Thanksgiving sides, right?
HEALTHY MASHED POTATOES
I heart mashed potatoes. I really do. If you're like me and you cannot picture Thanksgiving without mashed potatoes, you should definitely try my crock pot mashed potatoes recipe. It's so easy to make mashed potatoes in a crock pot. Not to mention you can prep and cook other dishes while your potatoes are cooking in the crock pot. Amazing, hmmm?
HOW TO STORE THANKSGIVING DISHES
Here's the thing, the key to a stress-free and healthy Thanksgiving is having a plan. You can prep any of the healthy Thanksgiving side dishes included in this post ahead of time (I'll talk about that in a bit) but first, you need to learn how to store Thanksgiving side dishes.
To store the delicious sides you need:
Either of them will do.
In the fridge, you can store…
Mashed sweet potatoes for 4 to 5 days;
Cauliflower mashed potatoes for 4 to 5 days;
Cranberries sauce for up to a week;
Garlic parmesan green beans for up to 5 days.
In the freezer, you can store…
The mashed sweet potatoes for up to 6 months;
The cranberries sauce for up to 2 months.

MAKE AHEAD THANKSGIVING SIDE DISHES
You know how to and for how long you can store these healthy Thanksgiving side dishes, but do you know why meal prepping for Thanksgiving is so important? Meal prepping your Thanksgiving sides will make your Thanksgiving Day so much easier and smoother! There are 2 super important reasons for this:
Careful planning = healthy Thanksgiving side dishes made with fresh ingredients;
Careful planning = less stress.
I'd say these are good enough reasons, wouldn't you?
Plus, you have more important things to do during Thanksgiving – like roasting a turkey, spending time with your family or enjoying a football game so getting a jump start with the side dishes is like the best idea ever.
And now for the 4 Easy + Healthy Thanksgiving Side Dishes!
1. Garlic Parmesan Green Beans
These Garlic Parmesan Green Beans are an easy vegetarian side that require just 6 ingredients and 15 minutes!  Get the recipe!
2. Creamy Parmesan Cauliflower Mashed Potatoes
Make this recipe for cauliflower mashed potatoes instead of regular mashed potatoes for a low-carb alternative. Easy to alter for paleo and vegan diets.  Get the recipe!
3. Homemade Cranberry Sauce
This is the best Homemade Cranberry Sauce ever!  Make your own delicious homemade cranberry sauce using just 4 ingredients! Perfect as an easy Thanksgiving side! Get the recipe!
4. Healthy Mashed Sweet Potatoes
Just three ingredients needed for this incredibly easy and delicious Healthy Mashed Sweet Potatoes recipe! This recipe is vegan, vegetarian, and refined sugar free — it's time to learn how to make mashed sweet potatoes! Get the recipe!
4 Easy + Healthy Thanksgiving Side Dishes
3 MORE HEALTHY THANKSGIVING RECIPES
Making Thanksgiving dinner healthy is not that complicated after all, isn't it? But wait… there's more. By more I mean 3 more great Thanksgiving recipes you can add on your menu. They are healthy, of course. And delicious. Doh.
EASY SWEET POTATO CASSEROLE
I already mentioned this Easy Sweet Potato Casserole
so I'm excited to tell you more about it. It's sweet, crunchy, and dense. Perfection, right?
And the great news is that the Easy Sweet Potato Casserole is also healthy. To make it healthy, I replaced the brown sugar with coconut sugar and the butter with coconut oil. Easy peasy. Get the recipe
.
HEALTHY MAC AND CHEESE
Mac and cheese is not only a Thanksgiving favorite but a favorite year round. So knowing how to make Healthy Mac and Cheese
is mandatory.
It's also super easy. And it involves clean ingredients such as butternut squash, Greek yogurt, and unrefined flour. Get the recipe
.
HEALTHY PECAN PIE
It's time for dessert. No holiday dinner is complete without dessert and Thanksgiving is no exception. What do you think about a Healthy Pecan Pie
?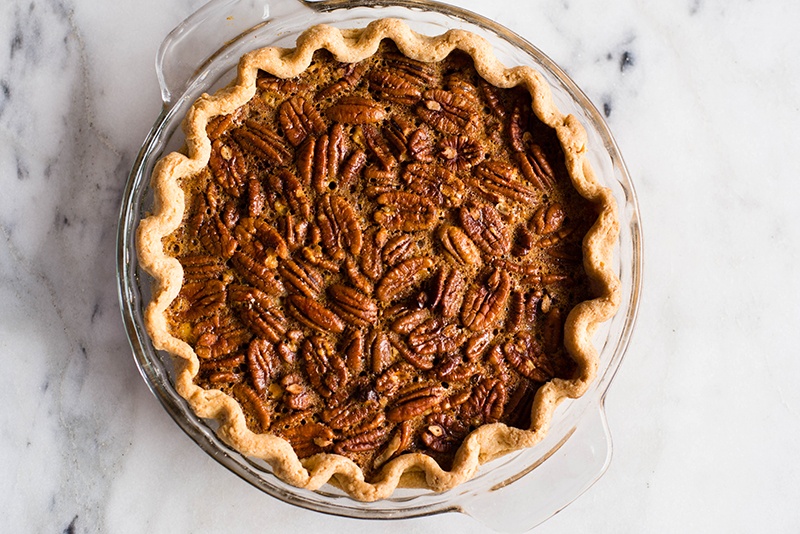 This pie is absolutely incredible and it's made with my trusty clean pie crust and other healthy ingredients. Yum, right? Get the recipe
.
This post contains affiliate links for products I use often and highly recommend.