A food processor is a versatile tool for the kitchen, making it easy to put together an amazing meal. This informative food processor guide will teach you how to use a food processor and will also give you tips on how to choose one. Delicious recipes for using your food processor also included!
Wow, food processors come in handy.
You can use them for just about anything and they chop, blend, and purée like a charm!
I'm constantly using my food processor. It's great for everything from pineapple sorbet (bringing the tropics home is ah-mah-zing) to pancakes (think plain Greek yogurt, oats, and almond milk!) and speeds up the process of any task in the kitchen. 
I mean, think about it. Food processors can chop, shred, slice, blend, purée, and more! It's a pretty exciting kitchen appliance in that it helps you perfect all of your favorite dishes, sauces, and dips. And that's just a start.
So let's delve into how to use a food processor in the kitchen. Once you learn about all this handy kitchen tool can do, you'll use yours more often—or go out and buy one!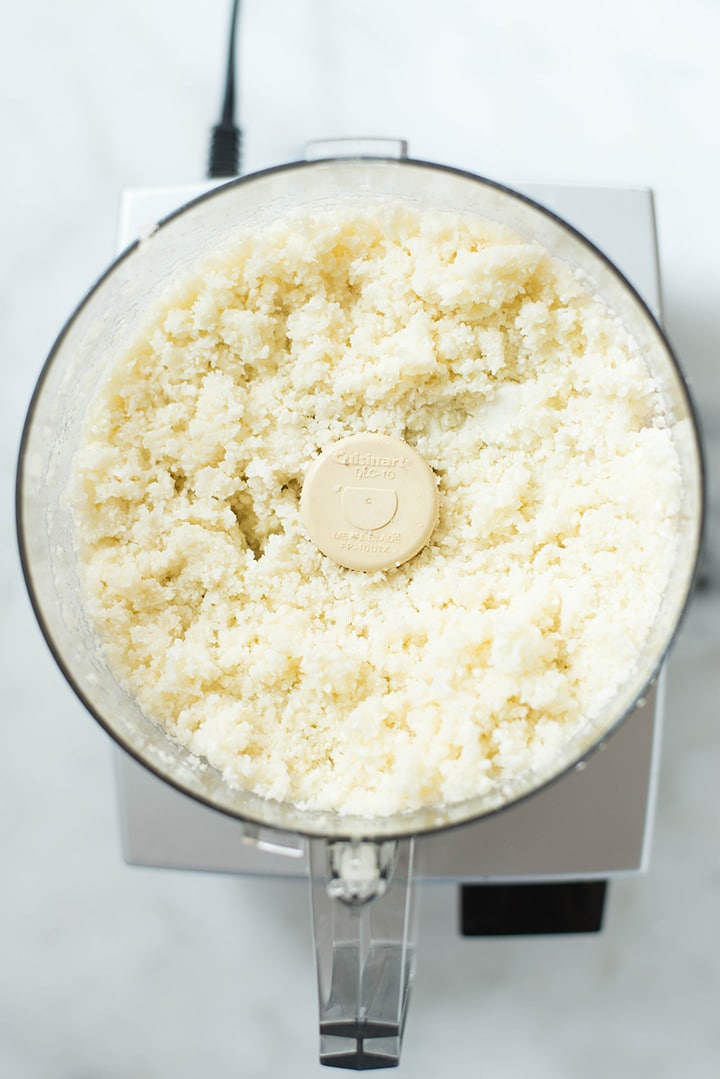 WHAT SIZE FOOD PROCESSOR DO I NEED?
My food processor is an 11-cup size. It's perfect for everything I make in the kitchen, and you know that is a lot! The dough capacity is 4 cups of flour (the work bowl is 7 cups) and it has slicing and shredding discs that can conquer any task I present!
When prepping food for a family of four, a 10-cup capacity should do the trick. If you often have company or cook big family dinners, you could go for the 14-cup capacity.
It's totally fine to start with a mini chopper to get the hang of it and to decide if a food processor is something you'll use. But I can almost guarantee that once you get used to the speed of the thing, you'll pass that mini chopper along to someone else new in their chopping and dicing journey, and move right on up to a full-fledged food processor.
WHAT TO LOOK FOR WHEN BUYING A FOOD PROCESSOR
Learning how to use a food processor is a beautiful thing. After all, this one kitchen technology item does a heck of a lot to make your life easier! Saving time in the kitchen is always a bonus.
Decide on the size of the work bowl you think you'll need. As I mentioned, my processor bowl is 11 cups.

Make sure that the blades are stainless steel for best quality.

Verify the functions on the processor. Check to see what blades and discs are included, and whether more are available to order if you find you have other jobs for your processor to do!

A wide chute is ideal for large vegetable chopping and dicing. Some will have wide tubes and an optional narrower pusher inside for smaller items.

Check the power and wattage. The wattage on my machine is 625. A function like mixing dough takes more power; chopping and slicing don't require quite as much.

Verify whether the parts are dishwasher safe. But, when putting the parts in the dishwasher, don't place them too near the heating element. The top rack is the safest place.

The body and base can undergo a lot of strain and vibrations. Choose a model with a solid body and base to prevent the machine from moving across the counter as it works.

How is the warranty? Check the coverage on parts and the motor and see how easy it is to replace a part if needed.

Buy a good quality processor (like this one) and then you'll only have to put out the money once.
TOP 10 WAYS TO USE A FOOD PROCESSOR
I'll tell ya right now, there are more than 10 ways to use a food processor! But these are some of my top ways that I use my machine:
1. Making hummus: I'm a big lover of hummus. My food processor keeps busy with this job because you can't beat homemade hummus, right? I've also written a post with 4 easy recipes that are absolutely delicious. Take a look here for how to make black bean hummus, sweet potato hummus avocado hummus, and beet hummus<–yum!
2. Grinding meat: Want to make the Best Homemade Burger Recipe ever? Sometimes it nice to grind the beef yourself for extra fresh and juicy burgers. My Queso Dip With Ground Beef is awesome, too.
3. Puréeing soup: I love creamy, warm soup. Using a food processor to make Cream of Tomato Soup or Roasted Acorn Squash Soup is easy peasy. Impress your guests with these savory soups.
4. Making dips and pestos: Love Italian? Anything topped with basil is divine—especially healthy pesto, easily whipped up in the food processor in less than 5 minutes!
5. Shredding cheese: Need shredded cheese for Quinoa Taco Stackers or Healthy Mac and Cheese? The food processor takes care of that task in mere seconds.
6. Making veggie dishes: I use the food processor to transform healthy cauliflower into amazing cauliflower rice. This tasty side goes with just about everything, from fish to beef.
7. Whipping up nut butter: Healthy nut butter in minutes. What more can I say?
8. Texturing and chopping veggies: Whether getting vegetables ready for a soup or salad, the food processor makes it a breeze.
9. Making healthy ice cream: Y'all know I love my healthy ice cream recipes. Using my food processor to create them gives an awesome blend of flavors.
10. Making dough: Using your food processor to make dough is easy. Sure you can make bread dough, but one of my favorite recipes is Chocolate Chip Peanut Butter Edible Cookie Dough Bites, a healthy snack my family loves.
4 MISTAKES TO AVOID WHEN LEARNING HOW TO USE A FOOD PROCESSOR
1. Using the food processor instead of the blender: When I have tasks that include liquids and sauces, I typically turn to the blender. The blender is taller and there is less chance of the recipe going beyond the fill line and spilling over.
2. Adding items that aren't cut up enough: Yes, the food processor is magical and a lifesaver. But, it's still important to cut your veggies up in uniformly-sized portions for an even consistency. And you don't want to overwork the processor by adding ingredients that are too large.
3. Letting the motor overheat: Many recipes require a lot of work of the processor—and that's okay. But give your handy appliance a break now and then to let it cool down if needed.
4. Forgetting the pulse option: It's important to know that when you want things chopped, the pulse button is key. If you hold the button down, your contents will turn into purée.
FOOD PROCESSOR SAFETY TIPS
Just like any other appliance (like the instant pot, for example) there are safety measure to follow:
Keep your hands, spatulas, and utensils away from the blades when they are spinning. Don't put your hands in the machine unless it is turned off and unplugged.

Secure the work bowl before placing the blades and turning on the food processor.

Use the food pusher to add ingredients to the bowl, never your hands. Never put your fingers into the feed tube or the work bowl when the machine is plugged in.

Always make sure your food processor is turned off before removing food or disassembling it and cleaning it.

When you have finished using the food processor, remove the work bowl from the base of the processor before removing the discs or blades.
FOOD PROCESSOR RECIPES
I'm glad I could fill you in on how to use a food processor. (Check out my guides on the Vitamix, instant pot, and slow cooker, too.) I use my food processor all of the time and have lots of recipes to share. Like Peach Ice Cream and more!  
This post contains affiliate links for products I use regularly and highly recommend.